Soundtrack Information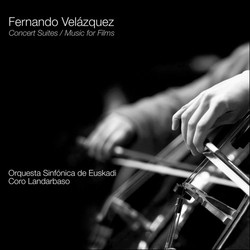 Fernando Velazquez: Concert Suites / Music for Films
Release Date: December 15, 2015
Conducted by Fernando Velazquez
Performed by
Euskadi Symphony Orchestra & Landarbaso Chorus
Formats: CD, Digital
Music By
Purchase Soundtrack
Track Listing
| | | |
| --- | --- | --- |
| 1. | El hombre esponja | 6:36 |
| 2. | El orfanato - The Orphanage (Parte I) | 11:23 |
| 3. | El orfanato - The Orphanage (Parte II) | 5:41 |
| 4. | Lope - The Outlaw | 7:42 |
| 5. | El mal ajeno - For the Good of Others | 13:28 |
| 6. | Zipi y Zape y el club de la canica - Zip & Zap and the Marble Gang | 8:56 |
| 7. | Bosque de sombras - The Backwoods | 2:44 |
| 8. | Lo imposible - The Impossible (Parte I) | 8:39 |
| 9. | Lo imposible - The Impossible (Parte II) | 7:24 |
| | Total Album Time: | 72:33 |
From the Manufacturer
Spanish composer Fernando Velazquez is one of the most personal voices in the current film music community. Despite his youth, he has scored more than thirty films, from intimate histories to epic blockbusters, horror, gothic dramas, comedies, and fantasy.
This album, designed for pure listening pleasure, features Fernando's emotional, melodic, elegant, ever-changing but always personal style. It includes seven orchestral concert suites especially recorded for this CD. The composer has chosen to focus on Spanish films, and especially on three directors with whom he has worked most assiduously, and with whom he began composing for film: J.A. Bayona, Óskar Santos and Koldo Serra. Suites from The Impossible, The Orphanage, For the Good of Others, Zip & Zap and the Marble Gang and Lope are augmented by premiere recordings of The Backwoods (his first film score!), and El hombre esponja, a short film by J.A. Bayona which—along with its music—is a tribute to adventure films of the eighties.
Performed by the marvelous Euskadi Symphony Orchestra and Landarbaso Chorus, under the baton of the composer, the album was recorded by Marc Blanes at the orchestra stage in San Sebastián. The 28-page booklet includes notes by Fernando Velázquez and directors Bayona, Santos and Serra.
Missing Information?
If any information appears to be missing from this page, contact us and let us know!