Soundtrack Information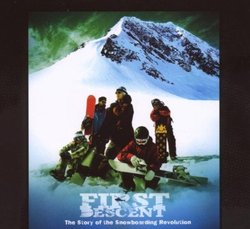 First Descent
Release Date: July 11, 2006
Format: CD
Music From
Purchase Soundtrack
Track Listing
1.
Everything Has Its Point (Rival Schools)
2.
Michio's Death Drive (Minus the Bear)
3.
Hi/Fi Stereo (Despistado)
4.
Revelation of Love (The Blue Van)
5.
Chick-A-Boom (Joe Bataan)
6.
Stereo Tonic (Thunderball)
7.
Will You Smile Again? (...And You Will Know Us By The Trail Of Dead)
8.
The Mountain (The Oranges Band)
9.
Disconnected (Face To Face)
10.
Going For Adds (Moving Units)
11.
Morning New Disease (Jets To Brazil)
12.
Told You The First Time (The Pietasters)
Track lengths not available for this album. If you have track length/time information for this album, please e-mail it to us at mail@soundtrack.net and we will add it to the database.
Missing Information?
If any information appears to be missing from this page, contact us and let us know!