Soundtrack Information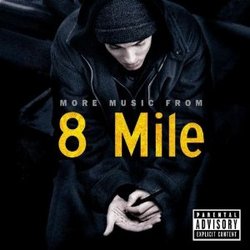 More Music From 8 Mile
Release Date: December 3, 2002
Format: CD
Music From
Purchase Soundtrack
Track Listing
1.
Shook Ones (Mobb Deep)
2.
Juicy (Notorious BIG)
3.
Gotta Get Mine (MC Breed w/ Tupac)
4.
Feel Me Flow (Naughty By Nature)
5.
Player's Ball (Outkast)
6.
Get Money (Jr. Mafia)
7.
You're All I Need (Method Man & Mary J. Blidge)
8.
Temptations (Tupac)
9.
Shimmy Shimmy Ya (Ol' Dirty Bastard)
10.
Bring Da Pain (Method Man)
11.
C.R.E.A.M. (Wu Tang Clan)
12.
Runnin (Pharcyde)
13.
Survival of the Fittest (Mobb Deep)
Track lengths not available for this album. If you have track length/time information for this album, please e-mail it to us at mail@soundtrack.net and we will add it to the database.
Missing Information?
If any information appears to be missing from this page, contact us and let us know!