Soundtrack Information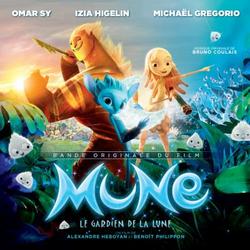 Mune
Release Date: October 16, 2015
Format: CD
Music From
Music By
Track Listing
1.
The Powerful Guardian
2.
We Have a Planet to Save
3.
Me Too
4.
Let Her Go
5.
You Are the New Guardian
6.
Hello
7.
La mort de Cire
8.
Les retrouvailles de Cire et de Mune
9.
Le nouveau gardien de la Lune
10.
Master of Dreams
11.
La danse de Cire et de Mune
12.
L'enfer
13.
Now it's Time
14.
Mune et la Lune
15.
The Sun is Dying
16.
Mune rejeté
17.
Oh No!
18.
Insect
19.
The End of The World
20.
Introduction
21.
Who is This?
22.
You Have to Trust Me
23.
Your Home
24.
You Will Be Safe
25.
The Sun
26.
I Promise
27.
An Old Friend
28.
For a Good Reason
29.
Cire and the Sun
30.
Cire and Sohone
31.
Sohone
32.
Stop
33.
The Powerful Guardians 2
34.
Les sifflotins
Track lengths not available for this album. If you have track length/time information for this album, please e-mail it to us at mail@soundtrack.net and we will add it to the database.
Missing Information?
If any information appears to be missing from this page, contact us and let us know!