Soundtrack Information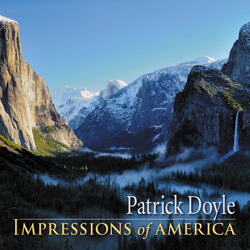 Patrick Doyle: Impressions Of America
Varese Sarabande (302 067 194 2 / VSD-7194)
Release Date: April 16, 2013
Formats: CD, Digital
Music By
Purchase Soundtrack
Track Listing
| | | |
| --- | --- | --- |
| 1. | Washington DC | 2:07 |
| 2. | Pumpkin Pie | 1:40 |
| 3. | Christmas In New York | 3:15 |
| 4. | Transcontinental Railroad | 3:07 |
| 5. | The Great Depression | 3:16 |
| 6. | Mount Rushmore | 2:31 |
| 7. | Prairie Sunrise | 2:57 |
| 8. | Winter In Alaska | 3:46 |
| 9. | Decaying City | 1:55 |
| 10. | Yosemite | 3:51 |
| 11. | Death Valley | 4:03 |
| 12. | Rushing Rapids | 3:55 |
| 13. | The Great Plains | 2:47 |
| 14. | Old Glory | 1:22 |
| 15. | Thanksgiving | 2:30 |
| | Total Album Time: | 43:02 |
From the Manufacturer
Patrick Doyle is a Scotsman who has been coming to America for many years now to bring his incredible music to Hollywood. These many trips have now inspired their own musical work and Doyle has composed a symphonic piece consisting of fifteen impressions. Patrick Doyle's Impressions of America is a nostalgic look at America... its landscapes, its traditions, and its people.
Scored for full symphony orchestra, we release Patrick Doyle's CD to celebrate the composer's 60th birthday in April of 2013.
Missing Information?
If any information appears to be missing from this page, contact us and let us know!