Soundtrack Information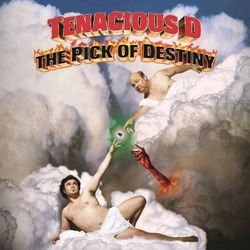 Tenacious D: The Pick of Destiny
Music On Vinyl / At the Movies (MOVATM016)
Release Date: November 28, 2014
Formats: Digital, Vinyl
Music From
Purchase Soundtrack
Track Listing
1.
SIDE A: Kickapoo
2.
Classico
3.
Baby
4.
Destiny
5.
History
6.
The Government Totally Sucks
7.
Master Exploder
8.
The Divide
9.
Papagenu (He's My Sassafrass)
10.
SIDE B: Dude (I Totally Miss You)
11.
Break In-City (Storm the Gate!)
12.
Car Chase City
13.
Beelzeboss (The Final Showdown)
14.
Pod
15.
The Metal
Track lengths not available for this album. If you have track length/time information for this album, please e-mail it to us at mail@soundtrack.net and we will add it to the database.
From the Manufacturer
The album was produced by the Dust Brothers' John King (who also produced classic albums for the Beastie Boys and Beck), and features appearances by Meat Loaf, Ronnie James Dio and Dave Grohl. There are excerpts of dialogue from the soundtrack's accompanying film between numerous songs. Portions of the album were recorded at Dave Grohl's studio.
180 gram audiophile vinyl. Download code of the full album including 1 previously unreleased song. Packed in collector's PVC bag.
Missing Information?
If any information appears to be missing from this page, contact us and let us know!