Soundtrack Information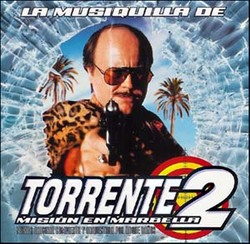 Torrente 2: Misión en Marbella
Year Released: 2001
Format: Unknown
Track Listing
1.
Trailer - Títulos de crédito
2.
Misión en Marbella (José Sánchez Mota)
3.
Semos diferentes (Joaquín Sabina & Santiago Segura)
4.
Qué rico (Los Amigos Invisibles)
5.
Qué tendrá Marbella? (Navajita Plateá & Santiago Segura)
6.
Tú me acostumbraste (Café Quijano & Inés Sastre)
7.
Sí fulano (Peret & David Byrne & Carol C)
8.
Arri-qui-taun (Laín)
9.
Cumbia lunera (El Gran Silencio)
10.
Entre vareta y canasta (Diego el Cigala)
11.
En mis besos (Café Quijano & Inés Sastre)
12.
Conversazione (Malabella)
13.
Sol marbellí
14.
Vuelve Torrente / El plan Spinelli
15.
Robo del chip
16.
Cuco encuentra pin / Spinelli enfurecido
17.
Sermón en el bar
18.
Sueños eróticos / Barragán
19.
Tío Mauri / Quiero ese chip / Investigando
20.
En el consulado
21.
Persecución
22.
Franco ha muerto / Huída del hotel
23.
Declaración de amor
24.
Espía infiltrado / Mauri al ataque
Track lengths not available for this album. If you have track length/time information for this album, please e-mail it to us at mail@soundtrack.net and we will add it to the database.
Missing Information?
If any information appears to be missing from this page, contact us and let us know!