Soundtrack Information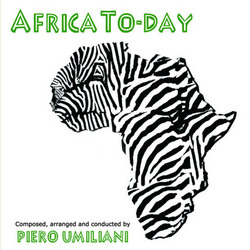 Africa To-Day
Limited Edition of 500 Copies
Kronos (KRONCD007)
Release Date: November 13, 2011
Format: CD
Music By
Purchase Soundtrack
Track Listing
| | | |
| --- | --- | --- |
| 1. | Africa To-day | 4:44 |
| 2. | Canoe | 1:57 |
| 3. | Oasi | 2:39 |
| 4. | Nel Villaggio | 4:56 |
| 5. | Tamburi Sacri | 1:54 |
| 6. | Ultimo Stregone | 2:19 |
| 7. | Tamburi nella Giungla | 1:55 |
| 8. | Rivoluzionari | 3:15 |
| 9. | Antiche Tradizioni | 2:49 |
| 10. | Preparativi | 2:41 |
| 11. | Riscossa | 3:07 |
| 12. | Erbe Magiche | 2:00 |
| 13. | Rite | 1:36 |
| 14. | Nuove Realtà | 2:49 |
| 15. | Giorno di Mercato | 3:51 |
| 16. | Rhythmical Stress | 2:57 |
| 17. | Savana | 2:42 |
| 18. | Sole Percussioni | 2:49 |
| 19. | Drums Choral | 3:51 |
| 20. | Sortilege | 3:50 |
| 21. | Nuovi Fermenti | 1:43 |
| 22. | Green Dawn | 2:22 |
| 23. | African Suspence | 3:22 |
| | Total Album Time: | 66:08 |
From the Manufacturer
Kronos Records is proud to present for the first time ever on CD a library music collection of tracks by legendary Maestro Piero Umiliani.
The tracks present on this compact disc were previously issued between 1971 and 1975 on three privately issued vinyl LP's on UMILIANI's own label LIUTO and OMICRON : AFRICA (1971), POLINESIA (1972) and CONTINENTE NERO (1975) and recorded at SoundWorkShop Studios in Rome. The pieces of this collection blend jazz, funk, world music and progressive rock with percussive breaks, marimba solos, piano riffs and moog licks in a state of the art performance by Piero and his orchestra.
Piero Umiliani was a great traveler and has done so with the eyes and ears of the musician. Listening to Africa-Day is not just a musical experience, it is a journey into the infinite world of Piero, a journey through his love for music and life.
Missing Information?
If any information appears to be missing from this page, contact us and let us know!