Soundtrack Information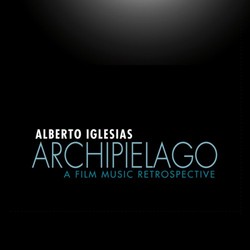 Archipielago: A Film Music Retrospective
Quartet Records (QR-250)
Release Date: October 7, 2016
Format: CD
Music By
Purchase Soundtrack
Track Listing
Disc 1: Archihpelago: A Film Music Retrospective
1.
Tinker Tailor Soldier Spy - Tinker Tailor Soldier Spy
5:55
2.
Titulos de cabecera - La mala educación
1:33
3.
Otra vez huyendo y sin despedirme - Todo sobre mi madre
1:40
4.
Désert - Le moine
3:50
5.
Me voy a morir de tanto amor - Lucía y el sexo
2:40
6.
Roadblock I - The Constant Gardener
2:42
7.
Retrato de Amanda Gris - La flor de mi secreto
1:19
8.
Puerta final - La mala educación
6:07
9.
Islay Hotel - Tinker Tailor Soldier Spy
0:59
10.
Todo sobre mi madre - Todo sobre mi madre
4:12
11.
Los vestidos desgarrados - La piel que habito
2:34
12.
Piano Bar - Los amantes pasajeros
4:01
13.
Justin's Death - The Constant Gardener
3:26
14.
El polvo del tractor - Volver
2:02
15.
Fin - Tierra
3:29
16.
Jordania - Hable con ella
2:52
17.
Opening Titles - The Kite Runner
3:21
18.
Algo en los árboles - La ardilla roja
1:35
19.
Tango de Parla - La flor de mi secreto
0:54
20.
Tema llorón - Volver
4:21
Disc Time:
59:32
Disc 2: Archihpelago: A Film Music Retrospective
1.
El amante menguante - Hable con ella
8:26
2.
Las vecinas - Volver
1:33
3.
Military Skills / March - Che
4:09
4.
Yaku - También la lluvia
4:59
5.
Día cero - Los amantes del Círculo Polar
3:22
6.
¿Puedo hablar contigo? - Lucía y el sexo
2:33
7.
Alicia vive - Hable con ella
2:43
8.
Mi aldea - La flor de mi secreto
1:06
9.
Marie et Zoe - La camarera del Titanic
3:08
10.
Kite Tournament - The Kite Runner
5:42
11.
Los abrazos rotos - Los abrazos rotos
2:58
12.
Créditos-La identidad inaccesible - La piel que habito
3:55
13.
Histoire d'Ambrosio - Le moine
2:02
14.
Cristina, el bosque, la vaca y el jabalí - Vacas
3:06
15.
Casa con ventanas y libros - La flor de mi secreto
1:55
16.
Amor de Pilar y Antonio - Te doy mis ojos
2:53
17.
Retake - Los abrazos rotos
1:21
18.
The Dancer Upstairs III - The Dancer Upstairs
4:11
19.
El asalto del hombre tigre - La piel que habito
7:36
20.
Funeral - The Constant Gardener
2:26
Disc Time:
70:04
Disc 3: Archihpelago: A Film Music Retrospective
1.
Titulos - La flor de mi secreto
0:31
2.
Hable con ella - Hable con ella
5:19
3.
George Smiley - Tinker Tailor Soldier Spy
5:20
4.
Viaje a Galicia - La mala educación
2:28
5.
Navidad 1970 / Madrid - Carne trémula
2:59
6.
Maizal - Tierra
4:13
7.
Comandante 1 - Comandante
2:34
8.
Pasajes - Pasajes
1:58
9.
Veni creator - Le moine
2:19
10.
Vals del Titanic - La camarera del Titanic
2:26
11.
Dona sangre - Los abrazos rotos
2:43
12.
Kite Shop - The Kite Runner
3:08
13.
El circo - ¡Dispara!
3:06
14.
Cristina, el abuelo y el segalari - Vacas
2:48
15.
¿Existe alguna posibilidad...? - La flor de mi secreto
1:25
16.
El faro: un cuento lleno de ventajas - Lucía y el sexo
2:18
17.
Fly a Kite - The Kite Runner
4:24
18.
La mecánica del transplante - Todo sobre mi madre
2:08
19.
Pieza 1 - ¡Dispara!
3:32
20.
Los amantes pasajeros - Los amantes pasajeros
3:48
Disc Time:
59:27
Disc 4: Archihpelago: A Film Music Retrospective
1.
Te doy mis ojos - Te doy mis ojos
5:08
2.
Roadblock II - The Constant Gardener
3:32
3.
Valsetto - La mala educación
1:37
4.
Soy Manuela - Todo sobre mi madre
2:37
5.
Final y A ciegas - Los abrazos rotos
7:38
6.
Mountains, Old Farm - The Dancer Upstairs
5:52
7.
Russians Invade - The Kite Runner
2:25
8.
Arrastran el cadáver - Volver
3:42
9.
Famara - Los abrazos rotos
2:37
10.
Paco congelado - Volver
3:52
11.
Balay - Balay –publicidad–
1:45
12.
Txargorri, frente Carlista - Vacas
5:08
13.
La fleuve - Le moine
1:54
14.
Amanecer agitato - Hable con ella
1:58
15.
No me gusta que escribas sobre mi - Todo sobre mi madre
1:47
16.
Raid - The Constant Gardener
5:21
17.
Morir dos veces - Tierra
3:10
18.
Comida casera - Volver
2:31
19.
Ana - Los amantes del Círculo Polar
3:27
20.
Cristina y Peru: el destino - Vacas
3:17
Disc Time:
69:18
Disc 5: Archihpelago: A Film Music Retrospective
1.
Central de silencio - Chillida, el arte y los sueños
6:36
2.
No sé a donde voy, muy lejos - Lucía y el sexo
3:51
3.
Silencio - Julieta
2:04
4.
El cuchillo, Tomás y Ángela - Tierra
3:31
5.
Soy Marco - Hable con ella
2:23
6.
End Titles - The Two Faces of January
5:07
7.
En el calor de la noche - La piel que habito
5:59
8.
El balón - Ma Ma
3:06
9.
Fascinación - La flor de mi secreto
1:01
10.
El origen del hombre - Julieta
1:45
11.
Arrastrándome - Carne trémula
2:01
12.
Main Titles - The Two Faces of January
3:58
13.
David espía - Carne trémula
1:34
14.
Tren de invierno, 1985 - Julieta
3:03
15.
Carta del más allá - La mala educación
2:23
16.
Ouverture - Le moine
3:31
17.
La flor de mi secreto - La flor de mi secreto
3:14
18.
La tela roja - Julieta
2:56
19.
Reno - Los amantes del Círculo Polar
5:08
20.
Que vaya todo bien - Ma Ma
2:19
Disc Time:
Total Album Time:
65:30
323:51
From the Manufacturer
Quartet Records and AI Music are very glad to present an ambitious project that compiles 25 years of film music from one of the most personal voices on the Spanish musical scene: Alberto Iglesias.
This set includes five CDs with the best and most significant 100 tracks from his many soundtracks—all remastered—including some new remixes and unreleased tracks. A unique opportunity to approach the fascinating musical universe of Alberto Iglesias.
Missing Information?
If any information appears to be missing from this page, contact us and let us know!