Soundtrack Information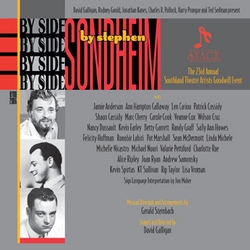 By Side By Side By Side By Sondheim - S.T.A.G.E. Benefit
Release Date: May 22, 2012
Format: CD
Music By
Purchase Soundtrack
Track Listing
1.
The Glamorous Life (Lisa Vroman)
2.
You Must Meet My Wife (Len Cariou & Sally Ann Howes)
3.
Send In the Clowns (Sally Ann Howes)
4.
Lovely (Pat Marshall)
5.
Company (The Company Ensemble)
6.
Getting Married Today (Veanne Cox)
7.
The Ladies Who Lunch (Carole Cook)
8.
Being Alive (Andrew Samonsky)
9.
So Many People (Michael Nouri)
10.
Agony (Patrick Cassidy & Shaun Cassidy)
11.
No One Is Alone (Ann Hampton Callaway)
12.
Bounce (Rip Taylor)
13.
Invocation and Instruction to the Audience (Ronobir Lahiri)
14.
Loveland (The Follies Ensemble)
15.
In Buddy's Eyes (Nancy Dussault)
16.
Broadway Baby (Betty Garrett)
17.
Losing My Mind (Randy Graff)
18.
Agony (reprise) (Patrick Cassidy & Shaun Cassidy)
19.
Me and My Town (Alice Ripley)
20.
With So Little To Be Sure Of (Valarie Pettiford)
21.
There Won't Be Trumpets (KT Sullivan)
22.
Anyone Can Whistle (Len Cariou)
23.
Good Thing Going (Michelle Nicastro)
24.
Franklin Shepard, Inc (Marc Cherry & Felicity Huffman)
25.
Marry Me a Little (Kevin Earley)
26.
Children Will Listen (Charlotte Rae & Company)
Track lengths not available for this album. If you have track length/time information for this album, please e-mail it to us at mail@soundtrack.net and we will add it to the database.
From the Manufacturer
The 23rd Annual STAGE Benefit Concert
The annual STAGE benefits have been going on for over twenty-five years now—they are always an exciting event, peopled with wonderful performers doing wonderful music. Several of them have been recorded live and released on CD, including the Kritzerland release of Schwartz, Schwartz, and Strouse. We are very pleased to present three never before released recordings, starting with this amazing tribute to a musical theatre legend: Stephen Sondheim.
Featuring a glittering array of performers, including Len Cariou, Sally Ann Howes, Patrick Cassidy, Shaun Cassidy, Ann Hampton Callaway, Nancy Dussault, Betty Garrett, Randy Graff, Alice Ripley, Michelle Nicastro, Felicity Huffman, Marc Cherry, Valarie Pettiford, Charlotte Rae, Carole Cook, Rip Taylor, and many others, all performing the brilliant Sondheim songs from such classics as Follies, Company, A Little Night Music, Anyone Can Whistle, Merrily We Roll Along, A Funny Thing Happened On The Way to the Forum, Into the Woods and more.
Recorded live, with all the vitality and excitement and, yes, sometimes roughness that goes with the territory. It was a once-in-a-lifetime evening and it's captured here in this two CD set.
Missing Information?
If any information appears to be missing from this page, contact us and let us know!