Soundtrack Information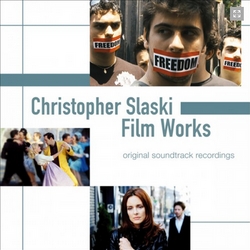 Christopher Slaski: Film Works
Release Date: January 23, 2015
Format: CD
Music By
Purchase Soundtrack
Track Listing
| | | |
| --- | --- | --- |
| 1. | Main Theme - Cuadrilatero | 2:50 |
| 2. | Main Theme - 5 Millions | 1:47 |
| 3. | Con Agressione - Proyecto Dos | 1:45 |
| 4. | Main Title - Rue Huvelin | 3:21 |
| 5. | Rapido - Proyecto Dos | 2:35 |
| 6. | Theme - La Vergüenza | 2:37 |
| 7. | Tenere Sulle Spine - Proyecto Dos | 3:52 |
| 8. | End Credits - La Vergüenza | 2:19 |
| 9. | Un Jour De Printemps | 2:58 |
| 10. | At the Restaurant - Tú o yo | 3:43 |
| 11. | Misteroso - Proyecto Dos | 2:52 |
| 12. | Dieguito's Theme - Semen Una Historia de Amor | 2:09 |
| 13. | Will She Forgive Him? - Semen Una Historia de Amor | 1:04 |
| 14. | Bicycle Ride / The Swing - Semen Una Historia de Amor | 1:13 |
| 15. | Suite - Beyond The Sea | 4:04 |
| 16. | End Credits - Tú o yo | 1:40 |
| 17. | Seduction - The Pianotuner of Earthquakes | 2:47 |
| 18. | Dance - El Perro del Hortelano | 2:48 |
| 19. | Buenos Aires | 3:48 |
| 20. | End Credits - Hollow | 1:48 |
| 21. | City at Dawn - I, Anna | 2:38 |
| 22. | She Goes to Work - I, Anna | 1:25 |
| 23. | She Takes the Elevator - I, Anna | 1:11 |
| 24. | Blood On Her Hands - I, Anna | 1:26 |
| 25. | Main Theme - Who is Florinda Bolkan? | 1:58 |
| 26. | Romanza | 2:01 |
| 27. | Playing the Game - Ludoterapia | 3:14 |
| 28. | End Titles - Ludoterapia | 1:40 |
| 29. | Solar Hemicycle - Frank Lloyd Wright Suite | 6:53 |
| 30. | Wingspread - Frank Lloyd Wright Suite | 5:20 |
| | Total Album Time: | 79:46 |
From the Manufacturer
Quartet Records presents a whole CD's worth of showcase from the career of young British composer Christopher Slaski.
The album is accompanied by a 12-page booklet written by Gergely Hubai in close collaboration with the composer. The notes describe all the projects in great details, based on the composer's own recollections of this rich and versatile career.
Missing Information?
If any information appears to be missing from this page, contact us and let us know!