Soundtrack Information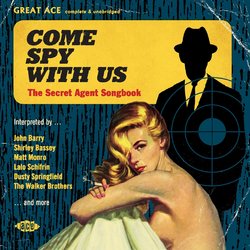 Come Spy With Us: The Secret Agent Songbook
Release Date: April 8, 2014
Format: CD
Purchase Soundtrack
Track Listing
1.
A Man Alone (John Barry And His Orchestra)
2.
Deadlier than the Male (The Walker Brothers)
3.
Arabesque (The Ventures)
4.
The Look of Love (Dusty Springfield)
5.
Danger Man (Red Price And His Combo)
6.
The Silencers (Vikki Carr)
7.
Secret Agent Man (Al Caiola)
8.
Who Needs Forever (Astrud Gilberto)
9.
Theme - The Man from U.N.C.L.E (The Challengers)
10.
The Last of the Secret Aagents (Nancy Sinatra)
11.
Mission: Impossible (Lalo Schifrin and His Orchestra)
12.
Dr. Goldfoot and the Bikini Machine (The Supremes)
13.
Our Man Flint (Billy Strange)
14.
Wednesday's Child (Matt Monro)
15.
Get Smart (Don Adams)
16.
We Should've (Cleo Laine & Ray Ellington)
17.
Theme - James Bond (Johnny and The Hurricanes)
18.
Theme - Burke's Law (Wynton Kelly)
19.
Where the Bullets Fly (Susan Maughan)
20.
High Wire (Brian Fahey and His Orchestra)
21.
Bye Bye - Peter Gunn (Sarah Vaughan)
22.
Theme - Where the Spies Are (Jimmy Smith)
23.
The Liquidator (Shirley Bassey)
24.
I Spy (Roland Shaw and His Orchestra)
25.
Come Spy with Me (Smokey Robinson and the Miracles)
Track lengths not available for this album. If you have track length/time information for this album, please e-mail it to us at mail@soundtrack.net and we will add it to the database.
Missing Information?
If any information appears to be missing from this page, contact us and let us know!