Soundtrack Information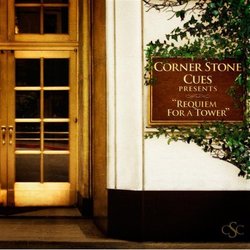 Corner Stone Cues: Requiem for a Tower
Release Date: March 26, 2009
Performed by
Sons of Sin Orchestra, Northwest Chapter
Format: Digital
Purchase Soundtrack
Track Listing
| | | |
| --- | --- | --- |
| 1. | "Requiem For A Tower Mvt. II" - Veigar Margeirsson / Clint Mansell | 0:57 |
| 2. | "Requiem For A Tower Mvt. III" - Simone Benyacar / Craig Stuart Garfinkle / Clint Mansell | 0:49 |
| 3. | "Requiem For A Tower Mvt. IV" - Dan Nielsen / Clint Mansell | 0:41 |
| 4. | "Wicked" - Dan Nielsen / Nathan Duvall | 2:39 |
| 5. | "J.B.D." - Dan Nielsen / Nathan Duvall | 2:26 |
| 6. | "Betrayal & Redemption" - Dan Nielsen / Nathan Duvall | 2:39 |
| 7. | "Threshold" - Dan Nielsen / Nathan Duvall | 2:03 |
| 8. | "Shining Path (L.U.2.P.)" - Dan Nielsen / Nathan Duvall | 2:39 |
| 9. | "Leather Tomb" - Dan Nielsen | 1:58 |
| 10. | "Ghost In The Trees" - Dan Nielsen | 2:06 |
| 11. | "Azure" - Dan Nielsen | 4:15 |
| 12. | "Forest Chase" - Simone Benyacar / Craig Stuart Garfinkle | 1:34 |
| | Total Album Time: | 24:46 |
Review: Requiem for a Tower
by Jonathan Jarry
November 8, 2006
4 / 5 Stars
Trailer music sure has evolved. I remember picking up a 2-CD compilation by John Beal many years ago that contained his original trailer music, score cues that were perfectly tailored to each individual movie and that, in some cases, were inspired by the score itself. Now, entire studios are dedicated to cranking out specialized cues for trailer usage and Corner Stone Cues have released a 25-minute best-of album featuring their own aural concoctions.
It is a difficult album to review but an easy one to listen to. Its artistic merits are debatable: these kinds of apocalyptic anthems are to film music what pop songs are to alternative music. The constructions are simplistic, the hooks are evident, the recipe is reproduced ad nauseam. Though composers whose works appear on this album don\'t show off their musical training; no experimentation of any kind here. Comparing Requiem for a Tower to an Elliot Goldenthal masterpiece will not be kind to the former.
However, once in a while, one feels the need to put aside The Flaming Lips\' latest experimentation in sound and just turn on the radio. Requiem for a Tower is fun. It is soft candy that melts in the mouth and makes you smile. The style is well known to theater audiences and will please fans of E.S. Posthumus: the brass is anthemic, the strings are obstinately chopping away, the drums are loud, and the mixed choir soars to new, terrifying heights. Every piece on this album, while featuring an array of different composers, is cut from that same cloth. Some pieces, like "Wicked", are more devious; others, like "J.B.D.", are more Jerry Bruckheimer-like and feature an acoustic guitar. "Shining Path" manages to glorify an onscreen romance and catapult it past cloud nine: one can indeed almost hear the cavernous voice of the narrator mentioning Keanu Reeves\' name over the music. The only piece that does not overuse the high caloric content of the combined string, brass, drum, and choral ensembles is "Azure" by Dan Nielsen. Its main theme is carried on the cello and it is a beautiful and understated piece that, unfortunately, sticks out like a sore thumb. One wonders why it was included on the album as the only piece of its kind or why a more diverse selection of cues was not favored. As it stands, it slows the album down unnecessarily but impresses by its beauty and restraint.
The main selling point of the album will undoubtedly prove to be the three takes on Clint Mansell\'s "Lux Aeterna" from Requiem for a Dream that were used prominently in the Lord of the Rings: The Two Towers trailers. They are all superb extrapolation of the minimalist piece: the second movement is a careful build-up that only lashes out at the end, the third movement is more elegiac, while the fourth and final take on the theme is fast, action-packed, and unforgiving. This kind of trailer music, while not refined in any form, is pure, unadulterated fun at its best. One knows exactly what one is going to get by buying the CD. There is no debate, there is no doubt. It\'s a guilty pleasure we should all indulge in once in a while. Like good candy, Requiem for a Tower is over before it has even satisfied our craving and we desperately reach into our pocket for a second helping. Lucky for us, then, that another album from Corner Stone Cues is coming out very soon.
Missing Information?
If any information appears to be missing from this page, contact us and let us know!