Soundtrack Information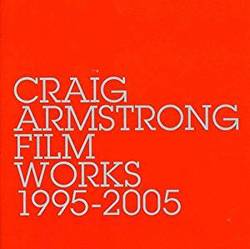 Craig Armstrong Film Works 1995-2005
Family Recordings (020 8962 5700)
Release Date: 2006
Format: CD
Music By
Purchase Soundtrack
Track Listing
| | | |
| --- | --- | --- |
| 1. | O Verona (Romeo And Juliet) | 1:27 |
| 2. | Escape (Plunkett And Macleane) | 3:08 |
| 3. | Main Theme (The Quiet American) | 5:00 |
| 4. | One Day I'll Fly Away (Moulin Rouge) | 3:23 |
| 5. | Rise (The Negotiator) | 3:10 |
| 6. | The Balcony Scene (Romeo And Juliet) | 5:26 |
| 7. | Glasgow Love Theme (Love Actually) | 2:10 |
| 8. | The Ball (Plunkett And Macleane) | 3:08 |
| 9. | Will You Come Back To Me (The Quiet American) | 1:33 |
| 10. | Rebecca (Plunkett And Macleane) | 2:40 |
| 11. | This Love (Cruel Intentions) | 4:46 |
| 12. | Della's Theme (Ray) | 4:44 |
| 13. | Main Theme (The Clearing) | 1:23 |
| 14. | Main Theme (Orphans) | 3:49 |
| 15. | New York City (The Bone Collector) | 3:02 |
| 16. | Nature Boy (Moulin Rouge) | 3:32 |
| 17. | The Final Scenes (Romeo And Juliet And Moulin Rouge) | 5:23 |
| 18. | Clair De Lune (Chanel No 5) | 2:01 |
| | Total Album Time: | 59:45 |
Review: Craig Armstrong Film Works 1995-2005
by Jonathan Jarry
December 17, 2005
4 / 5 Stars
Extravagant. Epic. Excessive. These are the words that come to mind when trying to describe Craig Armstrong\'s signature sound in the movies. He\'s rarely content on scoring a dramatic scene with a few horns and a string section; rather, he assaults us with a battery of percussion and the majesty of a choir layered in harmonies fit for a Greek tragedy. That, and the few horns and the string section.
Film Works 1995-2005 opens with a digitally accelerated chromatic ascent by a whole orchestra and, right there, in those opening two seconds and a half of aural fast forwarding, you\'ve got Armstrong\'s style served on a silver platter. When the tempo steadies, a gargantuan choir and orchestra scream at the listener in lavish chord progressions and you can\'t help but be swept away by the over-the-top drama unfolding in front of you. Film Works 1995-2005 is a "Best of" album and it serves as a great introduction to the carnivalesque film world of Glasgow\'s own Craig Armstrong.
Whatever cue mixes tragic choral chants, powerful orchestral bombast, and modern techno loops and electronic beats is a highlight on this album. The opening "O Verona" segues into "Escape" from Plunkett & Macleane, an Armstrong classic which you have most probably heard if you ever caught an ad on FOX for NASCAR racing. This is the track that, when you play it to your John Q friend, he says, "Oh! So he\'s the one who composed that!" The execution of this classical/pop sound is only trumped, in my book, by a later track on the album, "New York City", from The Bone Collector, which showcases an amazing theme backed by dramatic drum beats, dramatic brass accompaniment and, yes, dramatic string lines. The word "dramatic" cannot be overused when describing Armstrong\'s music; the word "despair" comes a close second, as "New York City" is an embodiment of this idea.
Film Works 1995-2005 also represents the quieter side of the Scottish composer, such as the delicately unsettling main theme to The Quiet American. "The Balcony Scene" from Romeo+Juliet is restrained, for the most part, to a solo piano, which gives way to gentle harmonic progressions for the string ensemble, allowing the viewer to bask in the Bard\'s timeless words. Some of these mellower pieces have trouble holding their ground in the company of the much grander material: indeed, they are weakened by the revelation of a certain melodic repetition which seems to plague the composer. While the explosions of sounds he concocts for action sequences may saturate our senses to the point of deafening our criticism, his piano and string romances rely solely on the strength of his melodies which he tends to recycle the way pop artists create songs that all begin to sound alike. I remember Satine and Christian\'s Love Theme from Moulin Rouge! as a simple series of four descending notes and here we hear it again as part of the "Glasgow Love Theme" from Love Actually... and it can also be heard 47 seconds into "New York City" on trumpets and trombones. While the presentation of the music is usually fresh and overwhelming, the melodic content can be, at times, weak and lacking in creativity.
Craig Armstrong\'s Film Works 1995-2005 still deserves praises and high marks for succinctly showcasing an original voice in film scoring. His powerful meshing of Classical orchestral constructs and modern beats, an expansion of a trend of scoring most notably heard on TV shows like C.S.I., is refreshing, exhilarating, and worth checking out for novices and cynics alike. The album closes with a suite of death scenes from Romeo+Juliet and Moulin Rouge!, which proves his musical cries of anguish work just as well on a smaller scale, and "Clair de Lune", his adaptation of Debussy\'s classic piece for Baz Luhrmann\'s Chanel No 5 TV spot, a perfect ending to a one-hour revue of film works blending the old with the new.
Missing Information?
If any information appears to be missing from this page, contact us and let us know!