Soundtrack Information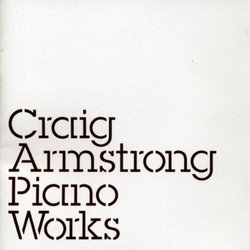 Craig Armstrong Piano Works
Release Date: 2004
Performed by
Craig Armstrong
Formats: CD, Digital
Music By
Purchase Soundtrack
Track Listing
1.
In My Own Words
2.
Heatmiser 2
3.
Hidden
4.
Gentle Piece
5.
Weather Storm
6.
Diffuse
7.
Leaving Paris
8.
Fugue
9.
Theme From Orphans
10.
1st Waltz
11.
Satine's Theme
12.
Morning Breaks
13.
Laura's Theme
14.
Glasgow Love Theme
15.
Delay
16.
Hymn 3
17.
Angelina
18.
Childhood 2
19.
Sunrise
Track lengths not available for this album. If you have track length/time information for this album, please e-mail it to us at mail@soundtrack.net and we will add it to the database.
Review: Craig Armstrong Piano Works
by Matt Brennan
December 3, 2004
2 / 5 Stars
Following Craig Armstrong's popular scores for Plunkett and Macleane, The Bone Collector, Moulin Rouge!, The Quiet American, and Love Actually comes an album of solo piano pieces that is only partially influenced by his movie scores. Like Rachel Portman and some of John Williams' scores, Armstrong's film music tends toward a piano foundation or theme, so it is no surprise that a collection of Armstrong's themes would comprise an album of solo piano. But, while several of the tracks are named "Themes" and there is a clear influence upon this music from his film scores, this is not just a collection of themes played on a piano; the majority of the tracks are precisely what the album's name suggests: works of music played on the piano, independent of whatever sources may have inspired them.
As a collection of piano solos, however, I must say that overall, I am somewhat disappointed. Armstrong's style is generally simple in that there are two lines – a bass and a melody – each usually playing one or two notes at a time. It sounds very much like Williams' opening theme from Angela's Ashes, which begins with the bass line and adds a moving "right hand" line after a few measures. The difference is that Armstrong's solos are often not thematic, nor melodic, which makes the CD an unremarkable listen; I would have trouble trying to whistle or hum along with it, and especially to reproduce any of it without the track playing. Instead, the sound is as though this was written as the background music for a pop ballad – most are fairly slow paced – played without the vocals. But again, the style does not carry much of a melody and is simple, contrasted to the near opposite of Bruce Hornsby's use of elaborate chords. Unfortunately, only the tracks that are actually called "Themes" are thematic and as a piano soloist, Armstong's compositions do not stand with such artists as Jim Brickman, Phil Coulter, and David Lanz.
At the same time, however, I don't think it entirely fair to place Armstrong among new age artists, for first and foremost, he is a film composer, so perhaps it is more fitting to analyze Piano Works as film music, or like John Williams' non-cinematic compositions, even as classical music. But again, even when compared to piano-based film scores and classical piano, these pieces still seem to fall short: good piano but unmelodic and lacking a certain emotion. Should most of these tracks be played in a movie, I expect the audience would either leave the theater without having recognized a thematic or emotional contribution to the film, or without having noticed the music at all.
Though my criticism is somewhat heavy-handed, the album is not without its merits, and fans of lighter piano music and of Armstrong's film scores may enjoy it more than my analysis would expect. "Glasgow Love Theme," from Love Actually, is one exception, as it was from a film and worked in the film, and carries both a theme and emotion; it uses chords better than many of the other tracks, and some of the chord and note progressions are quite wonderful. "Angelina" is another track that captures something of a melody, and the final track "Sunrise," which is over ten minutes long, is also quite beautiful.
I would recommend this album to fans of Armstrong's piano-based scores, but be aware that this is only the piano and does not always make up for the absence of the orchestra, and to piano music fans. But if you're looking for piano compositions that reflect the power and emotion we have heard from Armstrong for many of his film scores, there is a good chance you will be disappointed.
Audio Clips
"Leaving Paris"
Windows Media 56k
Windows Media 100k
QuickTime 56k
QuickTime 100k

"Weather Storm"
Windows Media 56k
Windows Media 100k
QuickTime 56k
QuickTime 100k
Missing Information?
If any information appears to be missing from this page, contact us and let us know!