Soundtrack Information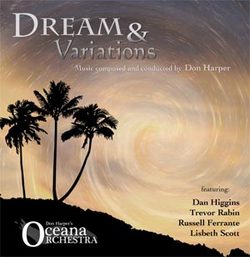 Dream & Variations
LuminAria Records (LR2628)
Release Date: April 24, 2007
Conducted by Don Harper
Performed by
Don Harper\'s Oceana Orchestra / Dan Higgins / Trevor Rabin / Russell Ferrante / Lisbeth Scott
Format: CD
Music By
Purchase Soundtrack
Track Listing
| | | |
| --- | --- | --- |
| 1. | Dream and Variations (feat. Dan Higgins and Russell Ferrante) | 8:10 |
| 2. | Where Do We Go From Here? (feat. Trevor Rabin) | 4:21 |
| 3. | End of Days - Lament & Prayer for the City of New Orleans (feat. Lisbeth Scott) | 6:15 |
| 4. | Heartland Preludes: Morning in Montana | 2:01 |
| 5. | Heartland Preludes: Shades of Grace | 4:26 |
| 6. | Heartland Preludes: O Sacred Head, Now Wounded | 4:02 |
| 7. | Heartland Preludes: Blackwater Run | 2:55 |
| 8. | Her Touch (feat. Russell Ferrante) | 3:47 |
| 9. | When You Close Your Eyes (feat. Tim Davis) | 4:34 |
| 10. | Dream and Variations (Full Version) (feat. Dan Higgins and Russell Ferrante) | 9:49 |
| | Total Album Time: | 50:20 |
Review: Dream & Variations
by Brian McVickar
July 30, 2007
3.5 / 5 Stars
In what is more of a concept album than an actual soundtrack, composer Don Harper felt compelled to create this orchestral and choral tapestry after the tragedy that befell New Orleans due to the onslaught of Hurricane Katrina. Included in this endeavor are lyricists Tim Child, fellow film composer Trevor Rabin, vocalist Lisbeth Scott and more, all collaborated to produce a varied work meant to represent the infinite diversity inherent in the \'ol US of A.
The lengthy opening track is "Dream and Variations" opens with legendary session player Dan Higgins on saxophone, accompanied by swelling, smoky strings, before an active piano picks up the pace, the tone still airy, followed by a jazz combo. In terms of comparison, this piece could be a cross between John Williams\' Catch Me If You Can, the lightness of his Sabrina score, sprinkled with a bit of Jerry Goldsmith\'s jazzy end title cue from The Edge. "Where Do We Go From Here?" retains the full orchestra but exchanges the jazz component for electric guitar, courtesy of Trevor Rabin. Admittedly, this combination can come across as fairly cheesy, but fans of these contrasting styles will appreciate the energy and verve. "End of Days" features the aforementioned Lisbeth Scott in a reflective, contemplative song.
The mid-section of the album consists of a four track mini-suite of "Heartland Preludes", beginning with the pleasant Americana of "Morning In Montana", then into the folksy, country instrumentation of "Shades of Grace", while "O Sacred Head, Now Wounded" seemingly represents the Native American quotient by ethnic flute and vocals and "Blackwater Run" merges the ethnic flute with a toe-tapping, bluegrass feel. Afterwards, the string orchestra returns, led by Russell Ferante on solo piano, in "Her Touch", a swaying, earnestly romantic selection.
Another vocal number follows, entitled "When Your Close Your Eyes", sung by Tim Davis, and would not be out of place as a sweeping ballad found most often on today\'s Broadway stage. The album then closes with a extended revisit to "Dream and Variations", circling back and encapsulating the great variety of melodic material sandwiched in between, like America\'s East and West Coasts. I find that this track and its opening counterpart to be the most memorable of this release, but the album overall casts its musical net so far and wide that most anyone is sure to find something to enjoy in its grooves (if CDs actually had grooves). However, upon recollection, it is not so much a specific theme or melody that remains in the memory as much as the journey through this work, driving across a landscape with states for orchestral, jazz, rock, vocal, bluegrass and country all waiting to be visited at length.
Missing Information?
If any information appears to be missing from this page, contact us and let us know!