Soundtrack Information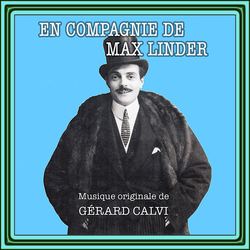 En compagnie de Max Linder
Release Date: February 15, 2016
Format: Digital
Music By
Purchase Soundtrack
Track Listing
| | | |
| --- | --- | --- |
| 1. | En compagnie de Max Linder – Ouverture | 1:03 |
| 2. | Soyez ma femme – Max fait sa cour | 2:19 |
| 3. | Un rival s'interpose | 1:56 |
| 4. | Max s'entête | 1:16 |
| 5. | Max enterre sa vie de garçon | 1:49 |
| 6. | Sept ans de malheur – Le miroir brisé | 1:51 |
| 7. | Max et son double | 3:48 |
| 8. | À cheval, en voiture, à pied | 3:38 |
| 9. | Max swing | 1:28 |
| 10. | En deux temps et trois mouvements | 2:33 |
| 11. | Ruses et subterfuges | 2:06 |
| 12. | Blues spirituel | 2:07 |
| 13. | Max s'enfuit en train | 1:58 |
| 14. | Le zoo en folie | 4:35 |
| 15. | Pour le meilleur et pour le rire | 2:37 |
| 16. | En compagnie de Max Linder | 1:59 |
| 17. | Gentleman-cambrioleur | 1:45 |
| 18. | En avant Max... | 1:38 |
| | Total Album Time: | 40:26 |
From the Manufacturer
In 1963, Maud Linder called on Gérard Calvi to score En compagnie de Max Linder, a compilation of three silent films directed by her father, Max Linder, a pioneer and a champion of comedy in France, a friend and a model for Charlie Chaplin. This assignment produced nearly an hour and half of almost non-stop music! Our program retains almost half of it, without sound effects. Calvi, in top form, is at the piano, accompanied by a small group of soloists who obviously have as much fun as he does. The last three pieces, taken from a stereo EP released at the time, bring back some prominent themes with different arrangements. Calvi's music for En compagnie de Max Linder has a freshness and liveliness that will cheer up all listeners, even outside the context of the images.
Missing Information?
If any information appears to be missing from this page, contact us and let us know!