Soundtrack Information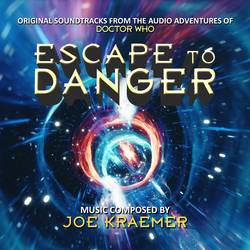 Escape to Danger - Original Soundtracks from the Audio Adventures of 'Doctor Who'
Limited Edition of 1,000 Units
La-La Land Records (LLLCD1531)
Release Date: July 14, 2020
Format: CD
Music By
Purchase Soundtrack
Track Listing
| | | |
| --- | --- | --- |
| 1. | Theme From Doctor Who* | 0:42 |
| 2. | THE DEFECTORS: UNIT HQ | 1:52 |
| 3. | Hedgerton | 1:40 |
| 4. | The Seventh Doctor | 1:54 |
| 5. | To Delphin Isle | 3:03 |
| 6. | The Delphin Arms | 2:24 |
| 7. | At The Quayside | 3:09 |
| 8. | Wingford and Cornelius | 2:39 |
| 9. | The Submersion Tank | 2:59 |
| 10. | Hedgerton's Tale | 3:35 |
| 11. | Return Of The Dead | 6:11 |
| 12. | UNIT To The Rescue | 5:09 |
| 13. | Escape to Danger I | 2:19 |
| 14. | Jo Takes Action | 2:51 |
| 15. | The Aftermath | 2:16 |
| 16. | ABSOLUTE POWER: Arrival at Teymah | 0:42 |
| 17. | Florrie and Yce | 1:44 |
| 18. | Mrs. Clarke | 1:54 |
| 19. | Professor Wyke | 3:12 |
| 20. | The Doctor Investigates | 1:11 |
| 21. | Who Goes There | 1:00 |
| 22. | A Mystery | 2:40 |
| 23. | The Ninexie | 2:15 |
| 24. | Rescuing Constance | 3:46 |
| 25. | Past is Prologue | 1:48 |
| 26. | Solving Riddles | 1:38 |
| 27. | Captain Khorbal | 2:21 |
| 28. | The Teymah Conundrum | 1:38 |
| 29. | Escape to Danger II | 4:34 |
| 30. | The Ninexie Solution | 2:42 |
| 31. | Blue Box | 0:27 |
| 32. | Theme From Doctor Who (Reprise)* | 0:48 |
| | Total Album Time: | 77:03 |
From the Manufacturer
Track Listing Legend:
* Composed by Ron Grainer
La-La Land Records proudly presents Escape to Danger: Original Soundtracks from the Audio Adventures of Doctor Who, the original music from the acclaimed Big Finish radio dramas. Renowned composer, and long-time Doctor Who fan, Joe Kraemer fashions a wondrous musical universe for these popular radio dramas that provide all-new otherworldly adventures for the beloved Doctor. This release showcases Kraemer's scores to the episodes "The Defectors" and "Absolute Power" – music that teams with thrills, drama and an abundance of heart! Featured as well, is the composer's rendition of the immortal Doctor Who theme. Produced by Joe Kraemer and mastered by James Nelson, this CD release includes a note from the composer and liners by writer Andrew Cartmel. The art design is by Mark Banning.
Missing Information?
If any information appears to be missing from this page, contact us and let us know!