Soundtrack Information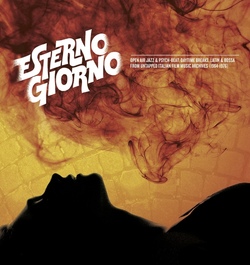 Esterno Giorno
Release Date: January 25, 2016
Formats: CD, Vinyl
Purchase Soundtrack
Track Listing
1.
SIDE A: Stasera Mi Butto - M53 Edit (Gianfranco Reverberi)
2.
I Ragazzi Di Bandiera Gialla - M1 (Gianni Boncompagni)
3.
Amore Formula 2 - M14 (Guycen, I Marc 4)
4.
Swing For Six (Gino Conte)
5.
A Come Andromeda - Seq. 11 (Mario Migliardi)
6.
Spiel Der Wahrheit (Armando Trovaioli)
7.
SIDE B: Il Trapianto - M7 (Gregorio García Segura)
8.
Nude, Calde E Pure - M43 (Piero Piccioni)
9.
Provaci Anche Tu, Lionel - M7 (Paolo Ormi)
10.
Femmina - M16 (Carlo Savina)
11.
Faccia Da Schiaffi - M9 (Piero Pintucci)
12.
(Le Chiamo Tutte) Anima Mia - M32 (Franco Pisano)
13.
Velluto Nero - M32 (Alberto Baldan Bembo)
14.
Babadaba (Bruno Lauzi)
15.
3 Superman A Tokio - M4 (Ruggero Cini)
16.
Scusa, Come Hai Detto? (Voice: Edda dell'Orso) (Nico Fidenco)
Track lengths not available for this album. If you have track length/time information for this album, please e-mail it to us at mail@soundtrack.net and we will add it to the database.
From the Manufacturer
Chapter two of a compilation project centered around and inside the secret archives of RCA's glorious soundtrack catalogue—full of unreleased tracks from great Italian soundtrack Maestros such as Gianfranco Reverberi, Armando Trovajoli, Piero Piccioni, Paolo Ormi, Nico FIidenco, and so on. Light and joyful music made for plein air sequences of 60's and 70's Italian cinema. Presented here is an explosive mixture of jazz, blues, funk, psychedelia, and spicy exotica, composed for a wide range of movies, from thrillers to sexy comedies, and from TV sci-fi to superhero films.
Missing Information?
If any information appears to be missing from this page, contact us and let us know!