Soundtrack Information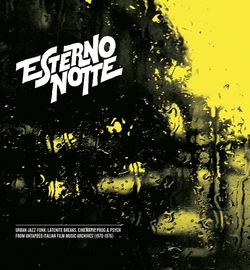 Esterno Notte
Four Flies (FLIES 05)
Release Date: January 25, 2016
Formats: CD, Vinyl
Purchase Soundtrack
Track Listing
1.
SIDE A: Il Trapianto - M35 (Gregorio García Segura)
2.
Milano, Il Clan Dei Calabresi - Seq. 2 (Gianni Marchetti)
3.
Milano Trema: La Polizia Vuole Giustizia - Seq. 1 (Guido And Maurizio De Angelis)
4.
Sortilegio - M1 (Sylvano D'Auria)
5.
Velluto Nero - M7 (Alberto Baldan Bembo)
6.
Amore Grande, Amore Libero - M2 (Federico Monti Arduini)
7.
Il Mestiere Di Uccidere #3 (Luciano Michelini)
8.
La Bomba (Alt. Take) (Giuseppe Mazzuca, Nicola Samale)
9.
SIDE B: L'Insegnante - M29 (Piero Umiliani)
10.
African Story - M22 (Francesco De Masi)
11.
Sistemo L'America E Torno - Seq. 7 (Luis Bacalov)
12.
Provaci Anche Tu, Lionel - M4 (Paolo Ormi)
13.
L'Altro Dio - Titoli (Alessandro Alessandroni)
14.
Un Urlo Dalle Tenebre - M25 (Giuliano Sorgini)
15.
La Febbre Del Cinema - M12 (Giovanni Tommaso)
16.
Commissariato Di Notturna - Titoli (Roberto Pregadio)
Track lengths not available for this album. If you have track length/time information for this album, please e-mail it to us at mail@soundtrack.net and we will add it to the database.
From the Manufacturer
A trip into unchartered Italian RCA film music vaults, including lots of unreleased gems from great Italian soundtrack Maestros such as Alessandro Alessandroni, Giuliano Sorgini, Piero Umiliani, Alberto Baldan Bembo, Giovanni Tommaso, and so on.
As an uninterrupted flow of lost soundtracks from the most subversive and psychedelic age of Italian cinema, this album evokes, above all, the night time cityscape settings of Italian movies of the 70's (thriller, horror, erotic, comedy, noir, and action). It captures that spirit and its musical core with a captivating concentration of funk, jazz-funk, deep breaks, prog and psych - all capable of seducing even today's dancefloors.
Missing Information?
If any information appears to be missing from this page, contact us and let us know!