Soundtrack Information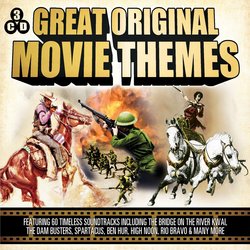 Great Original Movie Themes
Release Date: March 5, 2013
Format: CD
Purchase Soundtrack
Track Listing
Disc 1: Great Original Movie Themes
1.
The Magnificent Seven (Elmer Bernstein)
2.
How The West Was Won (Alfred Newman)
3.
The Big Country (Jerome Moross)
4.
The Comancheros (Elmer Bernstein)
5.
Treasure Of Sierra Madre (Max Steiner)
6.
High Noon (Dimitri Tiomkin)
7.
Rio Bravo (Victor Young)
8.
The Searchers (Max Steiner)
9.
Stagecoach (Richard Hageman)
10.
The Oklahoma Kid (Max Steiner)
11.
Dodge City (Max Steiner)
12.
Johnny Guitar (Victor Young)
13.
3:10 To Yuma (Lovely Emily) (George Dunning)
14.
The Wonderful Country (Alex North)
15.
Shane (Alex North)
16.
Fort Apache (Richard Hageman)
17.
The Virginian (Percy Faith)
18.
Red River (Dimitri Tiomkin)
19.
Rawhide (Lionel Newman)
20.
The Tin Star (Elmer Bernstein)
Disc 2: Great Original Movie Themes
1.
The Guns Of Navarone (Dimitri Tiomkin)
2.
Bridge Over The River Kwai (Malcolm Arnold)
3.
Reach For The Sky (Sidney Torch)
4.
The Dambusters (Sidney Torch)
5.
The Best Years Of Our Lives (Hugo Friedhofer)
6.
The Young Lions (Hugo Friedhofer)
7.
The Naked And The Dead (Bernard Herrmann)
8.
The Enemy Below (Leigh Harline)
9.
A Matter Of Life And Death (Allan Gray)
10.
The Caine Mutiny (Victor Young)
11.
One Minute To Zero (When I Fall In Love) (Victor Young)
12.
For Whom The Bell (Victor Young)
13.
The Prisoner Of Zenda (Alfred Newman)
14.
Cockleshell Heroes (Frank Chacksfield)
15.
Lost Patrol (Max Steiner)
16.
Mrs Miniver (Herbert Stothart)
17.
Viva Zapata (Alex North)
18.
Hell And High Water (Alfred Newman)
19.
War And Peace (Nina Rota)
20.
Touch Of Evil (Henry Mancini)
Disc 3: Great Original Movie Themes
1.
Gone With The Wind (Max Steiner)
2.
Lawrence Of Arabia (Maurice Jarre)
3.
Ben Hur (Miklos Rozsa)
4.
Exodus (Ernest Gold)
5.
Spartacus (Alex North)
6.
Ten Commandments (Elmer Bernstein)
7.
The Robe (Alfred Newman)
8.
Quo Vadis (Miklos Rozsa)
9.
El Cid (Miklos Rozsa)
10.
Ivanhoe (Miklos Rozsa)
11.
Mutiny On The Bounty (Herbert Stothart)
12.
Samson And Delilah (Victor Young)
13.
Giant (Dimitri Tiomkin)
14.
Julius Caesar (Miklos Rozsa)
15.
Lust For Life (Miklos Rozsa)
16.
King Of Kings (Miklos Rozsa)
17.
The Rainmaker (Alex North)
18.
All This And Heaven Too (Max Steiner)
19.
The Bad And The Beautiful (David Raksin)
20.
The Charge Of The Light Brigade (Max Steiner)
Track lengths not available for this album. If you have track length/time information for this album, please e-mail it to us at mail@soundtrack.net and we will add it to the database.
Missing Information?
If any information appears to be missing from this page, contact us and let us know!