Soundtrack Information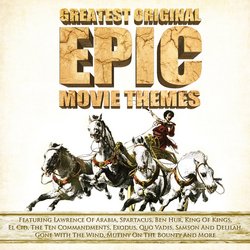 Greatest Original Epic Movie Themes
Release Date: March 5, 2013
Format: CD
Purchase Soundtrack
Track Listing
1.
Gone With The Wind (Max Steiner)
2.
Lawrence Of Arabia (Maurice Jarre)
3.
Ben Hur (Miklos Rozsa)
4.
Exodus (Ernest Gold)
5.
Spartacus (Alex North)
6.
Ten Commandments (Elmer Bernstein)
7.
The Robe (Alfred Newman)
8.
Quo Vadis (Miklos Rozsa)
9.
El Cid (Miklos Rozsa)
10.
Ivanhoe (Miklos Rozsa)
11.
Mutiny On The Bounty (Herbert Stothart)
12.
Samson And Delilah (Victor Young)
13.
Giant (Dimitri Tiomkin)
14.
Julius Caesar (Miklos Rozsa)
15.
Lust For Life (Miklos Rozsa)
16.
King Of Kings (Miklos Rozsa)
17.
The Rainmaker (Alex North)
18.
All This And Heaven Too (Max Steiner)
19.
The Bad And The Beautiful (David Raksin)
20.
The Charge Of The Light Brigade (Max Steiner)
Track lengths not available for this album. If you have track length/time information for this album, please e-mail it to us at mail@soundtrack.net and we will add it to the database.
Missing Information?
If any information appears to be missing from this page, contact us and let us know!