Soundtrack Information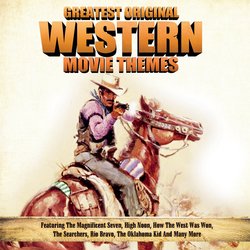 Greatest Original Western Movie Themes
Release Date: March 5, 2013
Format: CD
Purchase Soundtrack
Track Listing
1.
The Magnificent Seven (Elmer Bernstein)
2.
How The West Was Won (Alfred Newman)
3.
The Big Country (Jerome Moross)
4.
The Comancheros (Elmer Bernstein)
5.
Treasure Of Sierra Madre (Max Steiner)
6.
High Noon (Dimitri Tiomkin)
7.
Rio Bravo (Victor Young)
8.
The Searchers (Max Steiner)
9.
Stagecoach (Richard Hageman)
10.
The Oklahoma Kid (Max Steiner)
11.
Dodge City (Max Steiner)
12.
Johnny Guitar (Victor Young)
13.
3:10 To Yuma (Lovely Emily) (George Dunning)
14.
The Wonderful Country (Alex North)
15.
Shane (Alex North)
16.
Fort Apache (Richard Hageman)
17.
The Virginian (Percy Faith)
18.
Red River (Dimitri Tiomkin)
19.
Rawhide (Lionel Newman)
20.
The Tin Star (Elmer Bernstein)
Track lengths not available for this album. If you have track length/time information for this album, please e-mail it to us at mail@soundtrack.net and we will add it to the database.
Missing Information?
If any information appears to be missing from this page, contact us and let us know!