Soundtrack Information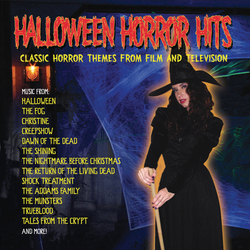 Halloween Horror Hits
Release Date: October 6, 2010
Format: Digital
Purchase Soundtrack
Track Listing
1.
Halloween (John Carpenter)
2.
The Fog (John Carpenter)
3.
Christine - Car Obsession / Attack / Plymouth (John Carpenter)
4.
The Thing (Ennio Morricone)
5.
Stephen King's Graveyard Shift - Trailer Music (John Beal)
6.
Creepshow (John Harrison)
7.
Dawn of the Dead - The Gonk (Herbert Chappell)
8.
Poltergeist - Carol Anne's Theme (Jerry Goldsmith)
9.
A Nightmare On Elm Street (Charles Bernstein)
10.
HBO's Tales From The Crypt (Danny Elfman)
11.
The Night Before Christmas - Overture (Danny Elfman)
12.
The Night Before Christmas - This Is Halloween(Danny Elfman)
13.
Psycho II (Jerry Goldsmith)
14.
The New Outer Limits (John Van Tongeran)
15.
True Blood - Bad Things (Jace Everett and Brian Hacksaw Williams)
16.
True Blood - Love Theme (Nathan Barr)
17.
Fright Night - Come To Me (Brad Fiedel)
18.
Suite From Transylvania Twist (Chuck Cirino)
19.
Shock Treatment - Looking For Trade (Richard O'Brien and Victoria De Mare)
20.
The Return of the Living Dead - Tonight (Jon St. James, Stacey Swain and Victoria De Mare)
21.
The Addams Family (Vic Mizzy)
22.
The Munsters (Jack Marshall)
23.
The Ghost and Mr. Chicken - The Haunted Organ (Vic Mizzy)
24.
Warlock - The Sentence (Jerry Goldsmith)
25.
The Shining (Wendy Carlos)
Track lengths not available for this album. If you have track length/time information for this album, please e-mail it to us at mail@soundtrack.net and we will add it to the database.
Missing Information?
If any information appears to be missing from this page, contact us and let us know!