Soundtrack Information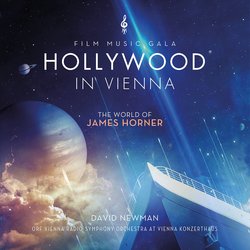 Hollywood in Vienna: The World of James Horner
Release Date: June 24, 2016
Conducted by David Newman
Performed by
Vienna Radio Symphony Orchestra
Format: CD
Music By
Purchase Soundtrack
Track Listing
1.
Hollywood In Vienna Fanfare
2.
Prelude - Metropolis
3.
De La Terre A La Lune - Space Mountain
4.
Suite - Star Trek
5.
The Departure - Gattaca
6.
Where Dreams Are Made - A.I. (Artificial Intelligence)
7.
Suite - Independence Day
8.
Universal Fanfare
9.
End Titles - Star Trek II: The Wrath Of Khan
10.
End Titles - Braveheart
11.
Horner Medley: Willow / A Beautiful Mind / Apollo 13 / Aliens / The Mask of Zorro / The Rocketeer
12.
Somewhere Out There - An American Tail
13.
Suite - Avatar
14.
Legends of The Fall
15.
Suite - Titanic
16.
Max Steiner Film Music Achievement Award - Presented to James Horner
17.
If We Hold On Together - The Land Before Time
Track lengths not available for this album. If you have track length/time information for this album, please e-mail it to us at mail@soundtrack.net and we will add it to the database.
From the Manufacturer
Hollywood In Vienna: The World of James Horner was the first and only time that the legendary composer heard a program of his own film music performed live in a concert hall. The concert features a fantastic selection of James Horner's greatest scores.
The concert is performed by a full Symphony Orchestra and choir, conducted by the great David Newman and featuring singer Deborah Cox. James Horner is presented with the Max Steiner Film Music Achievement Award and accepts with a very moving speech.
Missing Information?
If any information appears to be missing from this page, contact us and let us know!