Soundtrack Information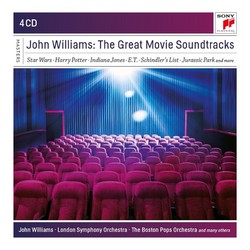 John Williams: The Great Movie Soundtracks
Release Date: October 30, 2015
Conducted by John Williams
Format: CD
Music By
Purchase Soundtrack
Track Listing
Disc 1: John Williams: The Great Movie Soundtracks
1.
HARRY POTTER AND THE PHILOSOPHER'S STONE: Harry's Wonderful World
2.
INDIANA JONES AND THE TEMPLE OF DOOM: End Credits
3.
WAR HORSE: Dartmoor, 1912
4.
SABRINA: Theme
5.
FAR AND AWAY: Theme
6.
AMERICAN JOURNEY: Immigration and Building
7.
The Country at War
8.
Popular Entertainment
9.
Arts and Sports
10.
Civil Rights and the Women's Movement
11.
Flight and Technology
12.
MEMOIRS OF A GEISHA: Sayuri's Theme
13.
Going to School
14.
The Chairman's Waltz
15.
Brush on Silk
16.
Chiyo's Prayer
17.
Becoming A Geisha
Disc 2: John Williams: The Great Movie Soundtracks
1.
JAWS: Theme
2.
Out to Sea / The Shark Cage Fugue
3.
E.T.: Adventures on Earth
4.
Flying Theme
5.
THE ADVENTURES OF TINTIN: The Adventures of Tintin
6.
LINCOLN: The People's House
7.
BORN ON THE FOURTH OF JULY: Theme
8.
Cua Viet River, Vietnam 1968
9.
Massapequa...The Early Days
10.
SCHINDLER'S LIST: Theme
11.
JURASSIC PARK: Theme
12.
EMPIRE OF THE SUN: Cadillac of the Skies
13.
CLOSE ENCOUNTERS OF THE THIRD KIND: Close Encounters of the Third Kind / When You Wish Upon a Star Medley
14.
SUGARLAND EXPRESS: Theme
Disc 3: John Williams: The Great Movie Soundtracks
1.
STAR WARS, EPISODE I: Main Title and the Arrival at Naboo
2.
The Flag Parade
3.
Qui-Gon's Noble End
4.
STAR WARS, EPISODE II: Jango's Escape
5.
Yoda and the Younglings
6.
STAR WARS, EPISODE III: General Grievous
7.
Anakin's Dark Deeds
8.
STAR WARS, EPISODE IV: Imperial Attack
9.
Ben Kenobi's Death / Tie Fighter Attack
10.
STAR WARS, EPISODE V: Yoda and the Force
11.
The Clash of Lightsabers
12.
STAR WARS, EPISODE VI: Sail Barge Assault
13.
End Title
Disc 4: John Williams: The Great Movie Soundtracks
1.
PRESIDENTIAL INAUGURATION OF 2009: Air and Simple Gifts
2.
NEW YEAR'S DAY BROADCAST OF 1995: Song for World Peace
3.
SUMMER OLYMPICS OF 1996: Summon the Heroes
4.
ACCOMPANIMENT TO NEW ENGLAND TIME CAPSULE (NOT FOR FILM): Hymn to New England
5.
THE FIVE SACRED TREES (NOT FOR FILM): I. Eó Mugna
6.
Tortan
7.
Eó Rossa
8.
Craeb Uisnig
9.
Dathi
10.
MARRIAGE OF THE CROWN PRINCE OF JAPAN (NOT FOR FILM): Sound the Bells!
11.
MEMORIAL (NOT FOR FILM): Elegy for Cello and Orchestra
12.
NBC NIGHTLY NEWS: The Mission Theme
13.
1941: March
14.
1988 SUMMER OLYMPICS: The Olympic Spirit
Track lengths not available for this album. If you have track length/time information for this album, please e-mail it to us at mail@soundtrack.net and we will add it to the database.
Missing Information?
If any information appears to be missing from this page, contact us and let us know!