Soundtrack Information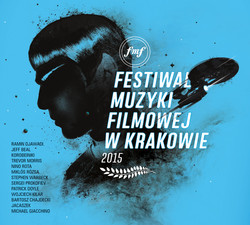 Festiwal Muzyki Filmowej W Krakowie 2015 (Krakow Film Music Festival 2015)
Release Date: 2015
Format: CD
Purchase Soundtrack
Track Listing
| | | |
| --- | --- | --- |
| 1. | Main Title - Game of Thrones (Ramin Djawadi) | 1:47 |
| 2. | The King's Arrival - Game of Thrones (Ramin Djawadi) | 3:34 |
| 3. | Main Title - House of Cards (Jeff Beal) | 1:50 |
| 4. | Theme - Tetris (Korobeiniki) | 3:09 |
| 5. | Main Titles - The Borgias (Trevor Morris) | 1:35 |
| 6. | Cesare And Lucrezia's Theme - The Borgias (Trevor Morris) | 1:33 |
| 7. | A Renaissance Timepiece - Romeo and Juliet (Nino Rota) | 6:39 |
| 8. | Caesar Now Be Still, Finale - Julius Caesar (Miklós Rózsa) | 6:31 |
| 9. | The Beginning Of The Partnership - Shakespeare in Love (Stephen Warbeck) | 2:25 |
| 10. | The Montagues And The Capulets - Romeo and Juliet (Sergei Prokofiev) | 1:50 |
| 11. | St. Crispen's Day, Once More Onto The Breach - Henry V (Patrick Doyle) | 4:50 |
| 12. | Main Title Theme - The Tudors (Trevor Morris) | 1:34 |
| 13. | Jane Seymour's Theme - The Tudors (Trevor Morris) | 2:13 |
| 14. | Parting Words - Lost (Michael Giacchino) | 5:33 |
| 15. | Main Title - The Dovekeepers (Jeff Beal) | 2:59 |
| 16. | Marta Uwerta (Wojciech Kilar) | 6:12 |
| 17. | Operacja Extended Theme - Bogowie (Bartosz Chajdecki) | 3:59 |
| 18. | Elegia (Jacaszek) | 5:43 |
| 19. | End Credits - Star Trek (Michael Giacchino) | 9:38 |
| | Total Album Time: | 73:34 |
From the Manufacturer
Varèse Sarabande released a special collection featuring music that was to be performed at Krakow Film Music Festival 2015. The CD was previously available exclusively in Poland, but is now, for the first time, available from the Varese Sarabande web-site.
The Krakow Film Music Festival is the biggest film music festival in the world. In 2015 it celebrated its 8th edition, taking place May 27-31. Continuing their association with this remarkable event, Varèse Sarabande has produced the official Krakow Film Music Festival CD 2015, featuring over 70 minutes of music by the composers who were represented in 2015's festival.
Missing Information?
If any information appears to be missing from this page, contact us and let us know!