Soundtrack Information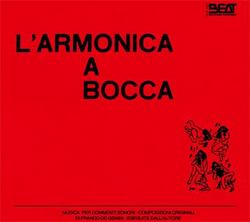 L'armonica a bocca di Franco De Gemini / L'armonica a bocca
Beat Records (CDX1014)
Release Date: December 10, 2014
Format: CD
Music By
Purchase Soundtrack
Track Listing
| | | |
| --- | --- | --- |
| 1. | L'ARMONICA A BOCCA DI FRANCO DE GEMINI: Mare di alassio | 2:56 |
| 2. | Ciao dal muretto di alassio | 2:46 |
| 3. | Prima di sera | 2:36 |
| 4. | Bassa beat | 2:19 |
| 5. | Solo domani | 3:00 |
| 6. | Beat 700 | 2:57 |
| 7. | Sulla riviera | 2:37 |
| 8. | Ricordo campestre | 2:45 |
| 9. | La scorsa estate | 3:11 |
| 10. | Holiday Garden | 2:42 |
| 11. | L'ARMONICA A BOCCA: Silenzio al campo | 1:40 |
| 12. | Cimitero di guerra | 1:06 |
| 13. | Tradotta | 0:54 |
| 14. | Passano le truppe | 1:31 |
| 15. | L'ultima notte al campo | 2:21 |
| 16. | La valle solitaria | 1:59 |
| 17. | Sentiero del west | 1:09 |
| 18. | Giardino d'infanzia | 2:18 |
| 19. | Dramma nella citta' | 1:57 |
| 20. | Astropolifonica | 3:21 |
| 21. | Apollo dodici | 1:49 |
| 22. | Show grottesco | 1:31 |
| 23. | La burla | 0:55 |
| 24. | Ultima casa | 1:30 |
| 25. | Malinconia di periferia | 1:29 |
| 26. | Il blues dell'armonica | 3:46 |
| | Total Album Time: | 57:05 |
From the Manufacturer
The third release dedicated to the monumental career of the Ferraran musician is a production that features two separate albums, L'armonica a bocca (1969) L'armonica a bocca di Franco De Gemini (1970).
At the time speaking, the two LPs were released with a simple red cover that featured four harmonica players hand drawn by a contemporary artist, from which we have again taken the theme. Both albums were recorded soon after the artistic affirmation that occurred thanks to his performance on the score for C'era una volta il west, after which music featuring Franco De Gemini's harmonica was more in demand.
L'armonica a bocca di Franco De Gemini, created together with his friend Alessandro Alessandroni and other composers, is full of cues that would have become great successes in Beat Records' catalog, mainly in the label's involvement with syncs (library music). Meanwhile, L'armonica a bocca is a drier album, almost experimental, and dedicated to synchronization in a minimalist key.
Two LPs with opposite features that rightly widen your cultural spectrum regarding the work of one of the best harmonica players of all time, now available together as the third chapter of the series dedicated to him. The CD is packaged in a slim jewel case with maxi-inlay and external obi, fully remastered and featuring liner notes by Daniele De Gemini.
Missing Information?
If any information appears to be missing from this page, contact us and let us know!