Soundtrack Information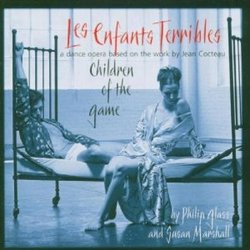 Les Enfants Terribles
Windam Hill Records (82876-67068-2)
Release Date: March 8, 2005
Conducted by Karen Kemensek
Formats: CD, Digital
Music By
Purchase Soundtrack
Track Listing
Disc 1: Les Enfants Terribles
1.
Scene 1 Les Enfants Terribles Overture
3:16
2.
Scene 2 Paul Is Dying
7:39
3.
Scene 3 A Snowball
3:31
4.
Scene 4 Two Halves Of The Same Body
5:41
5.
Scene 5 He Didn't Say Goodbye
2:06
6.
Scene 6 The Somnambulist
4:12
7.
Scene 7 She Slapped Me
5:14
8.
Scene 8a They Lived Their Dream
4:12
9.
Scene 8b And Then Leave
3:14
10.
Scene 9 Call Me Elisabeth
3:13
11.
Scene 10,11 Crisscross Pattern
6:50
Disc Time:
49:08
Disc 2: Les Enfants Terribles
1.
Scene 11a Terrible Interlude
4:41
2.
Scene 12 Unaware Of Its Taboos
2:31
3.
Scene 13 One Wheel Spinning
4:14
4.
Scene 14a,B Cocoon Of Shawls
4:17
5.
Scene 15 Lost
4:25
6.
Scene 16 He Wrote His Own Name
1:21
7.
Scene 17 Are You In Love, Agathe?
10:14
8.
Scene 18 From Dargelos
3:36
9.
Scene 19 She Took The Path
2:26
10.
Scene 20 Paul's End
4:06
Disc Time:
Total Album Time:
41:51
90:59
Review: Les Enfants Terribles
by Justus Pendleton
May 18, 2005
4.5 / 5 Stars
In 1996 Philip Glass debuted his dance opera Les Enfants Terrible, the concluding segment of his trilogy based on the works of Jean Cocteau. The previous two installments were Orphee and La Belle et Bete. Glass made his initial reputation as a minimalist but over the past decades his style has evolved to a more tonal, narrative, and lyrical style. It may no longer be minimalist but it still remains distinctive: the typical Hollywood soundtrack feels like an aural mugging in comparison to a Glass work.



Despite this CD being a 2005 release, Les Enfants Terrible was scored in the mid-90s, a period of experimentation and change for Glass, and recorded in 1997. The music is written for three pianos - played here by Glass, Nelson Padgett, and Eleanor Sandresky - and four voices. Although Glass has always written soundtracks, in the mid-90s, shortly after the debut of this piece, he increased his output in the area. The music in Les Enfants Terrible prefigures the work he did in the Academy Award nominated original score for The Hours.



This "opera" is written for four voices - with lyrics primarily in French - but the singing, while integral, does not overwhelm the music as it sometimes does in traditional opera. There is an even balance in the pieces between purely instrumental sections and those which are accompanied by voice. Les Enfants Terrible is not a typical opera and may appeal to those who have already made up their minds about whether or not they like opera. Because it isn't opera; it is "modern dance set to opera music based a 1920s novel inspired by ancient Greek tragedies". The drawback of this CD release is that we while we have access to the superb music we lose out on the visual, the dance, aspects of the piece, which Glass intended to be an intrinsic part of the performance.



If "Philip Glass" immediately makes you think of repetitive, atonal music you will find yourself pleasantly surprised by this excellent milestone in a tremendous artist's experimentation and growth. You will enjoy a crisp recording of an excellent rendition of some of the most innovative - and enjoyable - piano music written recently.

Missing Information?
If any information appears to be missing from this page, contact us and let us know!