Soundtrack Information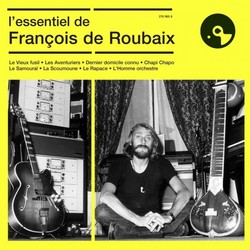 L'essentiel de Francois de Roubaix
Release Date: November 13, 2015
Format: Digital
Music By
Track Listing
1.
La Scoumoune
2.
Dernier domicile connu
3.
Le Vieux fusil
4.
Chapi Chapo
5.
Les Aventuriers
6.
Les Aventuriers
7.
Commissaire Moulin
8.
Le Rapace
9.
Les Grandes gueules
10.
Le Samouraï
11.
La Grande lessive (!)
12.
Où est passé Tom ?
13.
L'Homme orchestre
14.
L'Homme orchestre
15.
L'Antarctique
16.
Les Secrets de la mer rouge
17.
Les Caïds
18.
Boulevard du rhum
19.
Far from Dallas
20.
Les Amis
21.
L'Etalon
22.
Adieu l'ami
23.
La Mer est grande
24.
Les Secrets de la mer rouge par Benjamin de Roubaix
Track lengths not available for this album. If you have track length/time information for this album, please e-mail it to us at mail@soundtrack.net and we will add it to the database.
Missing Information?
If any information appears to be missing from this page, contact us and let us know!