Soundtrack Information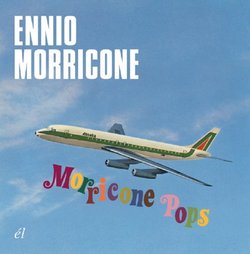 Morricone Pops
El Records (ACMEM244CD)
Release Date: March 11, 2013
Format: CD
Music By
Purchase Soundtrack
Track Listing
1.
La donna che vale: Dal spettacolo teatrale "Il lieto fine" (Alberto Lionello)
2.
Arianna - Nora Orlandi diretta da Armando Trovajoli con 4+4 di Nora Orlandi
3.
Cicciona cha cha (Eduardo Vianello)
4.
Qualcuno ha chiesto di me (Dora Musemeci)
5.
Caffe e camomilla (Dora Musumeci)
6.
Chiudo gli occhi (Enrico Pianori)
7.
Stelle e sogni (Barbara Baldassare)
8.
Nello sguardo (Barbara Baldassare)
9.
Notte infinata (Peter Tevis)
10.
Pastures of Plenty (Peter Tevis)
11.
Perdono (Catherine Spaak)
12.
Lungo treno del sud (Tony del Monaco)
13.
Paura
14.
I generale e 1/2 1961 (Eduardo Vianello)
15.
Faccio finta di dormire
16.
Quello che conta
17.
Tra tanta gente
18.
La tua stagione
19.
Viva il jump up
20.
Go Kart Twist
21.
Donna da morire
22.
Twist No.9
23.
Nicole - Dicciottenni al sole (Gianni Meccia & Jimmy Fontana)
24.
Twist dei vigili
25.
Corri corri
26.
Nun e' peccato (Helen Merrill)
27.
S'e' fatto tardi (Helen Merrill)
28.
Estate (Helen Merrill)
29.
Nessuno al mondo (Helen Merrill)
Track lengths not available for this album. If you have track length/time information for this album, please e-mail it to us at mail@soundtrack.net and we will add it to the database.
From the Manufacturer
Morricone Pops is a collection of pop recordings arranged, conducted and / or composed by Ennio Morricone in the late fifties and early sixties; a fascinating period when he was establishing a reputation within Italy, just prior to the start of his collaborations with Sergio Leone that, as we know, brought international fame and provided cinema with a new musical language.
Whether these recordings were released as singles or were created to appear in film, Morricone invested the most throw-away pop with an extraordinary quality; as the numbers, some-times stylishly romantic, often amusingly playful, performed by such popular domestic artists as Barbara Baldassare, Eduardo Vianello, Catherine Spaak, Tony Del Monaco and Miranda Martino, attest.
Included here also are the two sides by the American folk singer Peter Tevis with the choir of Franco Potenza. Notte Infinita and Pastures of Plenty inspired Sergio Leone to commission his film scores from Morricone.
To Leone's ears the single suggested the way forward, provided an unconventional musical blueprint for the landscape of the spaghetti western; what his biographer Christopher Frayling described as "Duane Eddy meets Rodrigo in the middle of a crowded Via Veneto."
The other early film music assignments featured here include the arrangments provided for the Eduardo Vianello numbers in 1 Generale e 1/2, the Italian version of Danny Kaye's On the Double and songs written by Morricone for the Luciano Salace productions, La Cuccagna and Voglia Matta (Crazy Urge), the Walter Chiari comedy I Motorizzati and Camillo Mastrocinque's Diciottenni al sole (Eighteen in the Sun) that was set on Ischia.
Morricone Pops also presents Il Maestro's sensuous arrangements of Nune e peccato, S'e fatto tardi, Estate and Nessuno al mondo performed in Italian by the jazz legend Helen Merrill.
Missing Information?
If any information appears to be missing from this page, contact us and let us know!