Soundtrack Information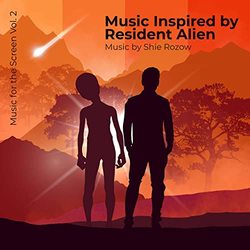 Music for the Screen Vol. 2: Music Inspired by Resident Alien
Release Date: August 26, 2022
Format: Digital
Music By
Purchase Soundtrack
Track Listing
| | | |
| --- | --- | --- |
| 1. | Somewhere, Not Here | 1:36 |
| 2. | Keep Up with Me | 0:47 |
| 3. | Alien Hands | 0:13 |
| 4. | Big Black | 0:45 |
| 5. | Something Fishy Going On | 0:39 |
| 6. | Crash | 0:49 |
| 7. | Alien Murder | 1:48 |
| 8. | Cosette | 0:29 |
| 9. | Searching for Wreckage | 1:30 |
| 10. | This. Is. Awesome! | 1:04 |
| 11. | Autopsy Prep | 1:00 |
| 12. | Compliment | 0:30 |
| 13. | Squishy Brain | 1:05 |
| 14. | It's Over | 0:50 |
| 15. | Breaking... | 0:37 |
| 16. | ...And Entering | 0:57 |
| 17. | There's an Alien Under the Bed | 0:41 |
| 18. | Alien Hangover | 0:50 |
| 19. | Knife | 0:41 |
| 20. | Engine Trouble | 0:33 |
| 21. | Alien Drawings | 0:49 |
| 22. | Packing Up | 0:33 |
| 23. | Doc on Ice | 1:19 |
| 24. | Not My Problem | 1:21 |
| 25. | Saving Asta | 1:23 |
| 26. | The Overlook | 2:12 |
| 27. | The Funeral | 0:30 |
| 28. | Open Casket | 0:43 |
| 29. | Flashback | 0:52 |
| 30. | The Deer | 3:18 |
| | Total Album Time: | 30:24 |
From the Manufacturer
The album titled, "Music for the Screen Vol. 2," represents Rozow's own take on Resident Alien's score, for which he served as the pilot episode's music editor. Highlights include "Somewhere, Not Here," a quirky track featuring swamp blues elements, and "The Overlook," a simple and tender cue. Rozow wrote, recorded and mixed the album in a span of three days.
"I thought the show was really unique and quirky, which inspired me to write my own take on its fun score," said Rozow.
Missing Information?
If any information appears to be missing from this page, contact us and let us know!