Soundtrack Information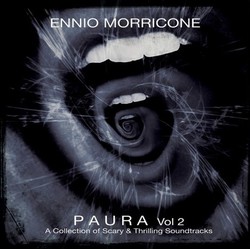 Paura - Vol. 2: A Collection of Scary & Thrilling Soundtracks
Limited Edition of 499 Copies
Rustblade (RBLLP014 )
Release Date: September 9, 2016
Format: Vinyl
Music By
Purchase Soundtrack
Track Listing
1.
SIDE A: Rapimento
2.
Nebulosa Seconda
3.
Gli Intoccabili (Titoli)
4.
Notte non Notte
5.
Quelle Foto
6.
Breathlessly (A Perdifiato)
7.
SIDE B: L'Attentato
8.
Regalo di Nozze
9.
Il Segreto (To the Farmhouse)
10.
La Casa delle Streghe
11.
Placcaggio
12.
Preludio alla Prima Moglie
13.
Musica per 11 Violini
Track lengths not available for this album. If you have track length/time information for this album, please e-mail it to us at mail@soundtrack.net and we will add it to the database.
From the Manufacturer
This Second Collection shows the darker experimental side of Ennio Morricone with pieces that have accompanied such films as Revolver, 1900, Barbablu, Una Pura formalita, Un tranquillo posto in campagna and many more. Frightening orchestrations, dark jazz tapestries and unsettling piano movements are brought to life.
With this release Rustblade attempts to shine a light on the compositional magic of an undisputed musical genius with a collection of songs appearing for the first time ever on vinyl.
A must have! Limited Transparent vinyl 499 copies.
Missing Information?
If any information appears to be missing from this page, contact us and let us know!