Soundtrack Information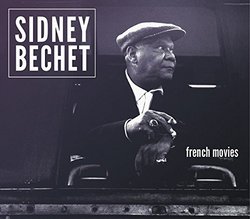 Sidney Bechet: French Movies
Release Date: May 12, 2015
Format: CD
Purchase Soundtrack
Track Listing
1.
Pourtant
2.
Un Ange Comme Ca
3.
South Rampart Street Parade
4.
Blues Dans Le Blues
5.
A Moir D Payer
6.
Trottoirs De Paris
7.
Les Hommes Sont Genereux / L Enchainee De L Amour...
8.
I Had It But It s All Gone Now
9.
Halle Hallelujah
10.
Jumpin Jack
11.
Passport To Paradis
12.
Coquin De Boubou
13.
Haou Haou Coucou
14.
Chacun Sa Chance
15.
Shake Em Up
16.
Un Coup De Cafard
17.
Sans Vous Facher, Repondez Moi
18.
Le Train Du Vieux Noir
19.
Le Bidon
Track lengths not available for this album. If you have track length/time information for this album, please e-mail it to us at mail@soundtrack.net and we will add it to the database.
Missing Information?
If any information appears to be missing from this page, contact us and let us know!