Soundtrack Information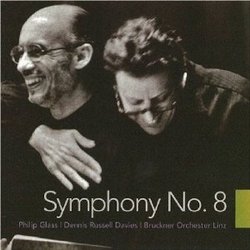 Symphony No. 8
Orange Mountain Music (omm0028)
Release Date: March 15, 2006
Conducted by Dennis Russell Davies
Performed by
The Bruckner Orchester Linz
Formats: CD, Digital
Music By
Purchase Soundtrack
Track Listing
| | | |
| --- | --- | --- |
| 1. | Movement I | 19:27 |
| 2. | Movement II | 12:18 |
| 3. | Movement III | 6:57 |
| | Total Album Time: | 38:42 |
Review: Symphony No. 8
by Jonathan Jarry
April 5, 2006
3.5 / 5 Stars
A lot of fun has been had at the expense of Philip Glass in certain circles. I remember watching an early episode of South Park where the minimalist composer was portrayed as the mad genius behind a god awful post-modern ballet at the elementary school. Some people will tell you that, once you\'ve heard one piece by Philip Glass, you\'ve heard them all. As with every saying, there is a dash of truth. I have heard Koyaanisqatsi, The Hours, and Dracula and, while the orchestrations differ, Glass\' signature sound is all over these scores. He has a tendency to reuse the same basic motifs and play them as ostinati over and over again. Koyaanisqatsi, in particular, showcases these long pieces where the same motifs are being played ad nauseum with infinitesimal modifications every couple of measures. It is thus with a great amount of surprise that I found myself entertained by his latest symphony, the eighth, which has a kinship with film music that most of his actual film scores do not possess.
There are short moments that seem lifted out of The Hours, with their quiet harmonies for strings, and those cyclical, arpeggiac motifs that raise their heads once in a while, but the bulk of the symphony sounds fresh and intriguing. Its first movement is, by far, the most vivacious and un-Glass-like. Its brass fanfares and irregular rhythms have a distinct Poledouris flare and it is easy to imagine the RoboCop march is just around the corner. Lone trombones slither around over woodblocks at the eight-minute mark, like something out of Episode III. All this swirling around and transitioning keeps leading us to a core theme which is repeated a number of times throughout the movement, an angry two-note motif over pounding percussion, stated each time with stronger dynamics and more instruments. While the motif still conserves Philip Glass\' distinctive touch, the overlapping brass and string lines giving it power and presence dip a toe or two into the same avant-gardiste pool Don Davis swam in for The Matrix. It is an impressive movement, fully fleshed out for the various members of the orchestra, with varying dynamics, rhythms, and emotions. In short, anything but the usual Glass.
The symphony\'s second movement plays like a succession of moments of delicate beauty and passages of muted dissonance, spotlighting the flutes and the lower strings. Glass eschews the traditional fourth movement and chooses to end his work with the third, a quiet and hopeful piece that opens with a melodic line for English horn. Dark turmoil starts engulfing the piece at the halfway point, with minor key harmonies for celli and low rumbles from the timpani, but a shining melody pierces through the harmonic cloud to end the thematic material on a note of quiet resolution. The anxiety continues for a full minute, with the accompaniment on basses slowly fading out, reminding the listener that the dark times may not be over.
Philip Glass\' Symphony No. 8 is a surprising work given his usual inclinations. Its orchestrations are well spread out, the volume of each section of the orchestra varies from passage to passage and, while the minimalism that might turn some people off is still part of the fabric of the work, it by no means directs and engulfs the whole thing. Fans of Poledouris\' bold brass work and Williams\' string-led dramas will certainly take a liking to this work and, most incredible of all, haters of Glass\' never-ending musical cycles might actually smile when hearing the master of minimalism\'s latest opus.
Missing Information?
If any information appears to be missing from this page, contact us and let us know!