Soundtrack Information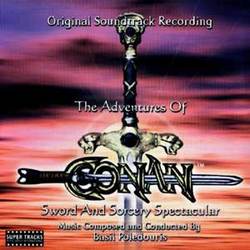 The Adventures of Conan: Sword and Sorcery Spectacular
Promotional Release
Release Date: 2000
Conducted by Basil Poledouris
Formats: CD, Digital
Music By
Purchase Soundtrack
Track Listing
| | | |
| --- | --- | --- |
| 1. | The Adventures Of Conan | 8:03 |
| 2. | Sword And Sorcery Spectacular | 16:33 |
| | Total Album Time: | 24:36 |
Review: Adventures of Conan: Sword and Sorcery Spectacular, The
by Messrob Torikian
August 25, 2003
3.5 / 5 Stars
Following on the heels of Conan The Barbarian's success in movie theaters, Universal Studios decided to take out their old House of Dracula stage show and replace it with the Sword and Sorcery Spectacular. The show followed the further adventures of everyone's favorite barbarian in his quest to find a unique stone, the Dragon's Eye, before the evil wizard does. To score the show, Universal wisely turned to the man who provided the thundering music to the movie, Basil Poledouris. For the show, Poledouris created close to 20 minutes of wall-to-wall music using his original score as a jumping off point.
The score begins with allusions to the familiar strains of "Anvil of Crom" and segues into the show's main theme, which is completely different than what is in the movie. What follows is something akin to the structure of a very short opera. It quickly builds momentum as it sets up the characters and the situation, followed by fast paced action music, grand choirs, and a rousing finale. While the score is heavy on the action cues, Poledouris isn't afraid to slow the pace down with quiet bits filled with dissonant strings. The chorus' ever-rising voices are used to evoke the power of evil and its fleeting triumph over good. Overall, the music has a no-holds-barred feeling of high adventure.
The first thing you notice when listening to this score is that it's low on the cheese factor, especially considering what others of its ilk sound like. Poledouris has created a companion piece to his film score without relying on simple rehashes of familiar themes. It's a well-crafted score that stands on its own. There are parts that sound distinctly Conan-esque and others that sound a bit like Williams' score to Raiders of the Lost Ark. That said, the music isn't as a grand as you might expect it to be. This is a Conan score by Poledouris and one expects it to be great, yet it somehow misses the power and beauty of the film's original score.
The sound quality on this promotional CD is quite good considering it's dated source (1983). The London Studio Symphony Orchestra gives the piece a nice full sound, but the choir sometimes falls short and never reaches the driving operatic heights of the film score. There are two tracks on the promotional CD released by SuperTracks. The first is an abridged version of the score with some of the show's dialogue, which is definitely cheesy. The second track is the heart of the disc: the complete score to the show without any dialogue. For Poledouris and Conan fans, it's definitely worth getting. The score can be purchased through Super Collector at http://www.supercollector.com/
Missing Information?
If any information appears to be missing from this page, contact us and let us know!