Soundtrack Information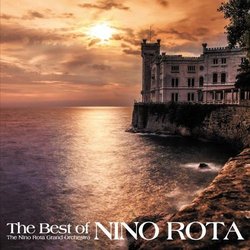 The Best of Nino Rota
Release Date: September 30, 2016
Performed by
The Nino Rota Grand Orchestra
Format: CD
Music By
Purchase Soundtrack
Track Listing
1.
The Godfather
2.
The Godfather Waltz
3.
Theme From The Godfather Part 2 (The Immigrant)
4.
Romeo And Juliet
5.
Plein Soleil
6.
War And Peace (Prelude)
7.
Rocco E I Suoi Fratelli
8.
Sunset Sunrise
9.
La Strada (Gelsomina)
10.
Le Notti Di Cabiria
11.
La Dolce Vita
12.
Giulietta Degli Spiriti
13.
Otto E Mezzo
14.
Fellini Satyricon
15.
Boccaccio '70 (Bevete Piu Latte)
16.
Lo Sceicco Bianco
17.
The Taming Of The Shrew
18.
Il Gattopardo (Titoli)
19.
Amarcord
20.
Wednesday Night
Track lengths not available for this album. If you have track length/time information for this album, please e-mail it to us at mail@soundtrack.net and we will add it to the database.
Missing Information?
If any information appears to be missing from this page, contact us and let us know!