Soundtrack Information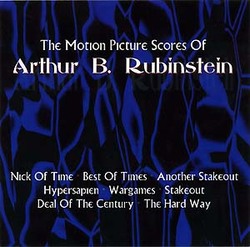 The Motion Picture Scores of Arthur B. Rubinstein
Promotional Release (ABR 01-02)
Release Date: 1998
Format: CD
Music From
Music By
Track Listing
Disc 1: Motion Picture Scores of Arthur B. Rubinstein, The
1.
Main Titles

[previewing track]

2:56
2.
Union Station - The Innocents

[previewing track]

1:56
3.
Rough Side Down

[previewing track]

1:55
4.
What's My Poison?

[previewing track]

2:00
5.
Suite Dream

[previewing track]

1:51
6.
I Give You The Govenor

[previewing track]

2:20
7.
It's 1:30

[previewing track]

2:19
8.
Jack's In Training

[previewing track]

1:55
9.
The Winning Dream

[previewing track]

1:57
10.
Game Day - Rain Day

[previewing track]

1:34
11.
Night Game

[previewing track]

0:57
12.
Taft High Band

[previewing track]

1:34
13.
Half-Time Resolve

[previewing track]

1:38
14.
The Pass - The Catch

[previewing track]

1:50
15.
Main Titles - The Safe House

[previewing track]

4:09
16.
No So Safe House

[previewing track]

2:24
17.
It's A Dirty Job

[previewing track]

3:13
18.
The Stakeout

[previewing track]

1:22
19.
Bloodhounds Are Us

[previewing track]

1:18
20.
Stupid Moves

[previewing track]

1:30
21.
In The Swim

[previewing track]

1:49
22.
All Staked Out

[previewing track]

2:19
23.
Cats & Mice

[previewing track]

1:29
24.
Always Maria

[previewing track]

1:53
25.
Main Title - Earth Arrival

[previewing track]

3:46
26.
Ojibwe Legends

[previewing track]

2:45
27.
Magic Hoedown

[previewing track]

2:48
28.
Prarie Moon Rise

[previewing track]

3:52
29.
Chasing A Trilyte

[previewing track]

2:30
30.
Rescue

[previewing track]

1:47
31.
Leaving Earth

[previewing track]

2:26
Disc Time:
68:02
Disc 2: Motion Picture Scores of Arthur B. Rubinstein, The
1.
Shall We Play Global Thermonuclear Warfare

[previewing track]

1:42
2.
This Is Not A Game

[previewing track]

2:19
3.
Finding Joshua

[previewing track]

1:28
4.
Escaping NORAD

[previewing track]

3:14
5.
Serious Threats

[previewing track]

1:48
6.
"Edge Of The World"

[previewing track]

2:04
7.
Are The Russians Coming?

[previewing track]

2:29
8.
We're Outta Here

[previewing track]

1:09
9.
Crashing NORAD

[previewing track]

1:50
10.
Waiting

[previewing track]

2:10
11.
No Winners

[previewing track]

1:48
12.
Main Titles - Prison Riot

[previewing track]

3:06
13.
Breakout

[previewing track]

2:31
14.
Maria's Street

[previewing track]

1:17
15.
Maria Surveillance

[previewing track]

1:58
16.
Planting Bugs

[previewing track]

2:56
17.
Trust Me

[previewing track]

1:29
18.
All Tied Up

[previewing track]

2:36
19.
The Idea

[previewing track]

1:39
20.
The Hustle

[previewing track]

0:58
21.
Selling The Plans For Uncle Sam

[previewing track]

1:13
22.
The Seduction

[previewing track]

2:42
23.
The Sellout

[previewing track]

1:13
24.
The Plane

[previewing track]

1:36
25.
South Of The Border Sale

[previewing track]

1:04
26.
South Of The Border Swindle

[previewing track]

1:44
27.
Serenata

[previewing track]

1:21
28.
Oh, Those Long, Long Legs

[previewing track]

1:22
29.
Big Apple Juice

[previewing track]

1:58
30.
He's Dead / She's Dead

[previewing track]

1:31
31.
N.Y.C. Subway Authority

[previewing track]

2:!4
32.
Where Have You Goone, L. Ron?

[previewing track]

3:08
33.
Smoking Gunn: The Movie

[previewing track]

3:29
34.
Top Of The World

[previewing track]

4:35
35.
The Good, The Badge And The Ugly

[previewing track]

1:55
Disc Time:
Total Album Time:
71:22
139:24
Review: Motion Picture Scores of Arthur B. Rubinstein, The
by Dan Goldwasser
June 23, 2001
3.5 / 5 Stars
Super Tracks released a very special 2-CD set focusing on the career of Arthur B. Rubinstein. Containing music from eight of his films, this collection provides a wonderful overview of Rubinstein\'s work, even though there is a lot of music not represented on the set.
Nick of Time, directed by John Badham, was a film presented in \"real-time\" - so the music needed to not only provide an emotional canvas for the movie, but it also needed to remind the audience that this was all happening now. The use of a steady rhythm and clock-like sounds help achieve that effect. I had bought the original release of Nick of Time because I thought it was a great suspense/mystery score, and I am pleased that it is appears in this album.
Best of Times is a sports film. As such, a rousing fanfare was needed for the \"heroic\" sequences. The main theme is very rousing, and has a Rudy-esque quality about it. A lot of the sentimental moments involve soft woodwinds, strings, and guitar. There is a very contemporary feel to the score, without the use of synthesizers (for the most part).
Another Stakeout is the sequel to Stakeout, which appears on the second disc in this set. Unfortunately, the first thing I noticed was that it seemed odd for a score that was recorded in the 1990s to have so much background hiss. I imagine it had something to do with the source of the music for the CD, but I can\'t imagine that it would have been too much trouble to run the music through a noise-reduction algorithm before pressing the CD. As one would expect for this sort of film, there is a lot of quiet suspense music. Other cues involve electric guitars and harmonicas in a whimsical jazzy way. After all, the Stakeout films were comedies!
Hypersapien was a science fiction western. Yes, a sci-fi western! As such, the score involves lots of traditional western motifs (harmonica and all), and a very Copland-esque score. Track 29 (\"Chasing A Trilyte\") involves some unique percussion effects and instruments to create a very unique sound. Overall, this is more of a dramatic score than a dark-brooding one, and allows the listener to get a sense of what Rubinstein could accomplish on a Western film.
Disc 2 begins with the classic film Wargames. A very tense score with military influences, Wargames is probably one of the best scores represented on this CD set. The original record album included dialogue over much of the music, and it is a pleasure to hear Rubinstein\'s score unblemished.
Stakeout is presented on this disc. Why it is presented after Another Stakeout is beyond me. But it is interesting to hear the differences in style between the two scores. Where Another Stakeout was orchestral (with electric guitars and harmonicas), Stakeout seems to be one of those scores from the 1980\'s which were mostly synthesized. Plenty of sequencer loops and synth effects are utilized in this score, and I would have to say that I prefer Another Stakeout over it, even though there were sound problems.
The Deal of the Century has a very smooth jazz \"Mancini\"-esque style to it. Very enjoyable to listen to, this was a pleasant surprise, as I had not even heard of the movie until I got this CD set. The action sequences are exciting to listen to, and hearken back to the darker \"street\" movies of the late \'70s (Dirty Harry, etc.). Even the recently released Payback has the same feeling that this score evokes.
The Hard Way was another movie that allowed Rubinstein to approach the jazz-score from another angle - this time with a much faster beat. The soft moments are filled with slinky saxophones, and the action sequences involve the whole orchestra with blaring horns in a big-band kind of way.
Filled with plenty of suspense, action, romance, and drama, The Motion Picture Scores of Arthur B. Rubinstein is a great 2CD set that allows listeners unfamiliar with Rubinstein\'s work to get an overall sense of his accomplishments. If you are already familiar with his work, this set is still recommended, because of the eight scores represented, only three were actually released in an official capacity.
Missing Information?
If any information appears to be missing from this page, contact us and let us know!