Soundtrack Information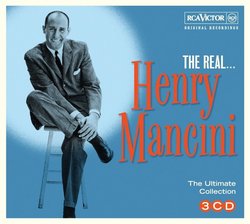 The Real... Henry Mancini
Release Date: September 8, 2014
Format: CD
Music By
Purchase Soundtrack
Track Listing
Disc 1: The Real... Henry Mancini
1.
Peter Gunn
2.
Moon River
3.
Mr. Yunioshi
4.
Baby Elephant Walk
5.
Happy Barefoot Boy
6.
Breakfast at Tiffany's
7.
Misty
8.
Frish Frosh
9.
Pie-In-the-Face Polka
10.
Big Noise From Winnetka
11.
The Brothers Go to Mothers
12.
Goofin' At The Coffee House
13.
Mr. Lucky
14.
Blue Mantilla
15.
Hatari! / Theme
16.
Charade (Main Title)
17.
Latin Snowfall
18.
Lujon
19.
Just for Tonight
20.
Moon River Cha Cha
Disc 2: The Real... Henry Mancini
1.
The Pink Panther Theme
2.
A Shot In The Dark
3.
Walkin' Bass
4.
Raindrops Keep Fallin' on My Head
5.
Midnight Cowboy
6.
By the Time I Get to Phoenix
7.
The Inspector Clouseau Theme
8.
Dream Street
9.
The Party
10.
The Girl In No Man's Land
11.
Darling Lili
12.
Two For The Road
13.
We've Loved Before (Yasmin's Theme)
14.
It Had Better Be Tonight
15.
The Sweetheart Tree (Vocal)
16.
In The Arms Of Love
17.
Dreamsville
18.
Candlelight on Crystal
19.
Birdie Num-Num
20.
Pennywhistle Jig
Disc 3: The Real... Henry Mancini
1.
The Windmills of Your Mind
2.
Experiment in Terror
3.
Bagdad on Thames
4.
Mambo Parisienne
5.
Disco
6.
Theme From Shaft
7.
The Godfather Theme
8.
The Magnificent Seven
9.
The Good, The Bad And The Ugly
10.
Moonlight Sonata
11.
Theme From Love Story
12.
Love Theme from Romeo And Juliet
13.
Days Of Wine And Roses
14.
Theme From The Molly Maguires
15.
"The Thorn Birds" Theme
16.
The Summer Knows
17.
The Untouchables (Theme)
18.
Mystery Movie Theme
19.
Theme From Cade's County
20.
Dream a Little Dream of Me
Track lengths not available for this album. If you have track length/time information for this album, please e-mail it to us at mail@soundtrack.net and we will add it to the database.
Missing Information?
If any information appears to be missing from this page, contact us and let us know!