Soundtrack Information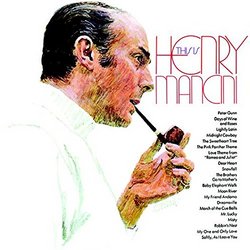 This Is Henry Mancini
Release Date: 1970
Formats: CD, Vinyl
Music By
Purchase Soundtrack
Track Listing
1.
Peter Gunn
2.
Days Of Wine And Roses
3.
Lightly Latin
4.
Midnight Cowboy
5.
The Sweetheart Tree
6.
The Pink Panther Theme
7.
Love Theme - Romeo & Juliet
8.
Dear Heart
9.
Snowfall
10.
The Brothers Go Mothers
11.
Baby Elephant Walk
12.
Moon River
13.
My Friend Andamo
14.
Dreamsville
15.
March Of The Cue Balls
16.
Mr. Lucky
17.
Misty
18.
Robbin's Nest
19.
My One And Only Love
20.
Softly As I Leave You
Track lengths not available for this album. If you have track length/time information for this album, please e-mail it to us at mail@soundtrack.net and we will add it to the database.
Missing Information?
If any information appears to be missing from this page, contact us and let us know!