Soundtrack Information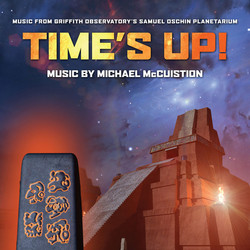 Time's Up
La-La Land Records (LLLCD 1358)
Release Date: October 5, 2015
Formats: CD, Digital
Music By
Purchase Soundtrack
Track Listing
| | | |
| --- | --- | --- |
| 1. | Another Disaster | 1:22 |
| 2. | Sunset | 1:46 |
| 3. | Cycles in the Night Sky | 1:57 |
| 4. | Seasons and the Sun | 2:56 |
| 5. | Predictions and Reality | 2:27 |
| 6. | The City of Tikal / Maya Long Count | 2:11 |
| 7. | Linear Time | 1:41 |
| 8. | The Direction of Time | 2:09 |
| 9. | Looking Back in Time | 2:31 |
| 10. | Telescopic Time Machine | 1:44 |
| 11. | Black Hole Journey | 1:19 |
| 12. | A Network of Spacetime | 0:52 |
| 13. | The Beginning of Time | 1:52 |
| 14. | Our Place in Time | 1:51 |
| 15. | The Universe Dies | 1:18 |
| 16. | It's up to Us | 3:06 |
| 17. | Sunset (alternate) | 1:46 |
| | Total Album Time: | 32:48 |
From the Manufacturer
La-La Land Records and Griffith Observatory presents the original score to the acclaimed Griffith Observatory / Samuel Oschin Planetarium show Time's Up! Emmy Award-Winning composer Michael McCuistion crafts a powerfully out-of-this-world original score for this acclaimed Samuel Oschin Planetarium show, which thrilled audiences at the Griffith Observatory from 2012-2014, taking them on an astounding journey behind the birth and death of the cosmos and even the nature of time itself.
McCuistion's breathtaking, thrilling and deeply emotional score was so notable in Time's Up that it has been used in portion to accompany other Griffith Observatory programs and exhibits. This special release was produced by the composer, mastered by James Nelson and features exclusive, in-depth liner notes by writer John Takis and celestial art design by Dan Goldwasser.
Missing Information?
If any information appears to be missing from this page, contact us and let us know!