Soundtrack Information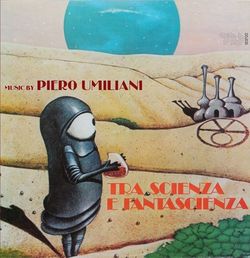 Tra scienza e fantascienza
Beat Records (DDJ03S)
Release Date: May 27, 2013
Format: CD
Music By
Purchase Soundtrack
Track Listing
| | | |
| --- | --- | --- |
| 1. | Cowboy spaziale | 2:34 |
| 2. | Officina stellare | 3:13 |
| 3. | Danza galattica | 4:06 |
| 4. | Saltarello marziano | 2:03 |
| 5. | Jingle N.1 | 1:17 |
| 6. | Automa | 2:00 |
| 7. | Tarantellaccia | 2:45 |
| 8. | Bric Brac | 1:08 |
| 9. | Soundmaker Blues | 4:04 |
| 10. | Gadget | 2:53 |
| 11. | Soft Key | 3:44 |
| 12. | Happy Accompaniment | 1:25 |
| 13. | Futuristic Jam | 3:37 |
| 14. | 15) Futuristic Jam | 2:03 |
| 15. | 16) Killer Robot | 1:35 |
| | Total Album Time: | 38:27 |
From the Manufacturer
We keep on releasing stuff through our DDJ-S series dedicated to synchronizations, after the orchestral funk contaminated by classical Russian music in Fire Stars Dances (DDJ01S, Piero Piccioni & Luis Bacalov), going through the great mainstream disco music featured in Discomusic (DDJ02S, Piero Umiliani), we make a small jump back to 1976 in order to retrieve one of the most rare electronic synchronization of the 70s: Tra scienza E fantascienca, again realized by histrionic Piero Umiliani.
A Maestro gifted with a never ending passion for music, innovator by vocation, experimenter in his genetic code now at ease with various nature synths in order to forge sound that could be reductively termed as avant-guarde. Timeless atmospheres, alien hypnotic sonorities, modern and charmingly retro, minimal and complex arranged with an impressive taste for the unknown substance the Maestro was going to deal with.
Amazing to see how in 1976 the Maestro was already forward in building completely new sounds. A cue among all? Happy Accompaniment: it seems a 2013 Minimal House track. The CD in the typical format of the series, slim jewel case with visible CD on the back and a reproduction of the original LP artwork.
Missing Information?
If any information appears to be missing from this page, contact us and let us know!