Soundtrack Information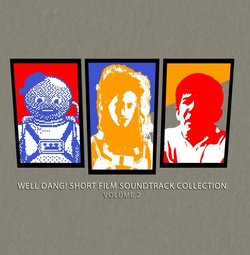 Well Dang! Short Film Soundtrack Collection: Volume 2
Release Date: January 3, 2014
Format: CD
Purchase Soundtrack
Track Listing
1.
MONO: The Only One I Have
2.
THE GIRL FROM CAROLINA: Revenge
3.
The Girl from Carolina
4.
Harry
5.
The Slippery Whisker
6.
Skateland
7.
A Rusty Nail in My Side
8.
The Pit of Lechery
9.
On the Prowl
10.
HAWK HILL: Apparition
11.
2 HOURS: Insomnia
12.
BUDDY: Solitude
13.
The Planet Below
14.
Heat Rising
15.
Archax 5
16.
Deep Space Orbit
17.
FRAGMENTATION: Anxiety
18.
OUT FOR DELIVERY: Valued Customer
19.
SHOWDOWN AT SULLIVAN OAKS: Sullivan Oaks
20.
Your Dad's an Asshole
21.
We Ain't Gonna Do Monday
22.
Ricochet
Track lengths not available for this album. If you have track length/time information for this album, please e-mail it to us at mail@soundtrack.net and we will add it to the database.
Missing Information?
If any information appears to be missing from this page, contact us and let us know!