Soundtrack Information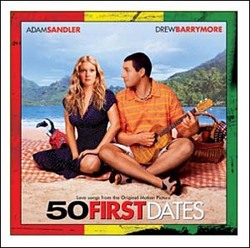 50 First Dates
Maverick (48675-2)
Release Date: February 3, 2004
Formats: CD, Digital
Music From
Purchase Soundtrack
Track Listing
| | | |
| --- | --- | --- |
| 1. | Hold Me Now (Wayne Wonder) | 4:12 |
| 2. | Love Song (311) | 3:28 |
| 3. | Lips Like Sugar (Seal) | 5:00 |
| 4. | Your Love (Wyclef Jean) | 4:13 |
| 5. | Drive (Ziggy Marley) | 4:27 |
| 6. | True (Will.I.Am and Fergie) | 3:46 |
| 7. | Slave To Love (Elan Atias) | 4:24 |
| 8. | Every Breath You Take (UB40) | 3:55 |
| 9. | Ghost In You (Mark McGrath) | 4:23 |
| 10. | Friday, I'm In Love (Dryden Mitchell) | 3:01 |
| 11. | Breakfast In Bed (Nicole Kea) | 3:21 |
| 12. | I Melt With You (Jason Mraz) | 3:36 |
| 13. | Forgetful Lucy (Adam Sandler) | 1:51 |
| | Total Album Time: | 49:37 |
Review: 50 First Dates
by Matthew Sheby
December 2, 2004
3.5 / 5 Stars
80s music, Adam Sandler, and Drew Barrymore. They worked well enough together for The Wedding Singer, and we're asked to enjoy the combination again on 50 First Dates. According to the over-the-top press release accompanying this album, the soundtrack's "twist" is that its contents aren't just a compendium of 80s covers, but rather 80s covers with a reggae inflection. After listening, I agree that many of these tracks are great cover songs. However, though I have extremely limited experience with world music, some of the "reggae" treatments made me suspicious that a producer just hit the "reggae" button on the rhythm panel of a $99.95 Casio keyboard.
The CD begins with Wayne Wonder's gorgeous cover of "Hold Me Now," first recorded by the Thompson Twins. Wonder, a dancehall giant in his native Jamaica, turns out such a great number that I expected all the rest of the tracks to be up to par. Unfortunately, this was not to be. Seal collaborated with Wonder's fellow West Indies native Mikey Dread on "Lips Like Sugar" (goth antecedents Echo and the Bunnymen first did this one). The result, to me, seems lifeless and mechanistic. Does this mean I don't like "real reggae"? I'm not sure.
Elan Atias, who fronted the Wailers from 1997 to 1999, contributes Roxy Music's "Slave to Love" with the backing vocals of Gwen Stefani. It sounds impassioned and real. Regarding this Roxy track, I offer up two notes of some minor relevance: Bill Murray covered Roxy Music's "More Than This" within Lost in Translation and the No Doubt cover (fronted, of course, by Gwen Stefani) of Talk Talk's "It's My Life" is getting deserved radio play these days.
Also outstanding is Ziggy Marley's performance of the Cars' classic "Drive." This is romantic and clear, but in no way cheesy. Definitely the highlight of the album. I would go so far to say that I like Marley's cover over the original. Also skillful is Jason Mraz's "I Melt With You." This too rises to the level, if not higher, of the original as sung by Modern English. A big surprise to me is the worthy job done by the nu-rawk bands on this album. I don't normally listen to 311, but big props should go out for their doing the Cures' "Love Song." It almost sounds placid, tranquil, like it's on an island, or even like a Cures fan after taking some soma. Also notable is Dryden Mitchell's sugar-high version of the same band's "Friday, I'm in Love." Another note: Mitchell fronts Alien Ant Farm, which did a well-respected cover of Michael Jackson's self-fulfilling "Smooth Criminal" approximately a year ago.
Wyclef & Eve's "L.O.V.E. reggae mix" of the Outfield's "Your Love" did annoy me. If I remember correctly, the original celebrated sex on the sly. I even think the "you" of the song was supposed to be jailbait. Anyway, on this CD, it's been transformed into a rap about a besieged-by-haytas relationship that's compared to "God's perfect plan." This version is pasteurized like the Nick Cannon, no-"opened up three buttons on her shirt so far" update of "Parents Just Don't Understand." Lest one think that I believe rappers can't competently perform songs of the past, I point out half the Black Eyed Peas' cover of Spandau Ballet's oft-sampled "True." (Not half the song, but half the band - only will.i.am and Fergie are here.) I like the rapping on this better, as I think these hip-hop "updates" are more in line with the meaning of the original song.
Unfortunately, UB40's cover of Police's "Every Breath You Take" seems cheesy. Some horns wander in towards the end of the song, but it's too late to salvage the track. UB40, in turn, was covered by Nicole Kea when she sang their "Breakfast in Bed." I'll be honest; I've heard neither this tune nor anything previously done by Kea. That said, I like this track and look forward to hearing more of her. Sugar Ray's lead singer Mark McGrath delivers a sparse "Ghost In You," originally recorded by the Psychedelic Furs. Though I like his cover song found on The Beach's soundtrack, I'm not such a big fan of this one. Adam Sandler rounds out the album with "Forgetful Lucy," which seems to summarize the events of the film. It's cute and Drew Barrymore giggles in the background, but I don't think anyone's playing this on the radio any time soon. I'm not that sure if I want to hear Sandler croon about "[juggling] a walrus's schlong."
There were definite highlights to the disc, but not everything appealed to me. I don't know enough about reggae to know if these covers would appeal to that genre's aficionados, but 80s fans should get a kick out of it. So go snag a couple tracks off of Apple's online iTunes music store. This gets three-and-one-half stars out of five.
Missing Information?
If any information appears to be missing from this page, contact us and let us know!