Soundtrack Information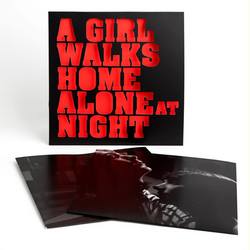 A Girl Walks Home Alone at Night
Vinyl Editions Limited to 1,300 Copies
Release Date: March 17, 2015
Formats: CD, Digital, Vinyl
Music From
Track Listing
| | | |
| --- | --- | --- |
| 1. | Charkhesh e Pooch (Kiosk) | 2:23 |
| 2. | Gelaye (Radio Tehran) | 3:43 |
| 3. | Sarcophagus (Federale) | 8:34 |
| 4. | Dancing girls (Farah) | 5:35 |
| 5. | Bashy (Free Electric Band) | 5:14 |
| 6. | Black Sunday (Federale) | 3:58 |
| 7. | Hishe Ayn Ore (Remember That Day?) (Bei Ru) | 2:52 |
| 8. | Bread Thief (Bei Ru) | 3:00 |
| 9. | Death (album version) (White Lies) | 5:00 |
| 10. | Sisyphus (Federale) | 4:14 |
| 11. | Khabnama (Radio Tehran) | 6:33 |
| 12. | Thirsty's Return (Federale) | 3:26 |
| 13. | Cheshme Man (Dariush) | 4:54 |
| 14. | Tatilat (Radio Tehran) | 5:40 |
| 15. | Yarom Bia (Kiosk) | 4:31 |
| 16. | The Veil (Bei Ru) | 3:52 |
| 17. | Tribe (Federale) | 4:25 |
| | Total Album Time: | 77:54 |
From the Manufacturer
Many film music LPs both old and new come thick and fast, but Death Waltz Recording Company is very proud to release what is sure to be the soundtrack of 2015. A Girl Walks Home Alone at Night is a Western vampire noir set in a small Iranian town that has an effortlessly cool soundtrack featuring music from artists such as Kiosk, Radio Tehran, and Federale. With no solo composer providing a score, the sound of the film has instead been curated by director Ana Lily Amirpour with a variety of tracks selected to supply a unique atmosphere, recalling less traditional vampire films such as Near Dark and Only Lovers Left Alive.
Despite not being scored, the music selected by the director nevertheless bears heavy influence from the film music world, particularly the electronically ethereal work of Tangerine Dream, and the inescapable Western sounds of Ennio Morricone. The eclectic nature of the soundtrack is immediately noticeable – with the traditional accordion and Iranian crooning of Kiosk's 'Charkesh E Pooch' a clear opposite of Radio Tehran's punky and irreverent 'Tatilat'. White Lies' 'Death' gives off a new wave melodic vibe, while Farah's ambient 'Dancing Girls' does its best to seduce you with its spoken word vocals. Both creepy and eerie and fun and energetic with its mixing of traditional and alternative musical genres, A Girl Walks Home Alone at Night is an instant classic.
Available in two color ways, one previously premiered at our Pop-Up Record shop 'Audyssey.'
Audyssey Version: DISC 1 BRIGHT WHITE & DISC 2 ONYX BLACK (Limited to 500 Copies). Webstore Exclusive Version: DISC 1 GREY & DISC 2 WHITE (Limited to 800 Copies).
CD is housed in a gatefold digipack.
Artwork by Jay Shaw.
Missing Information?
If any information appears to be missing from this page, contact us and let us know!