Soundtrack Information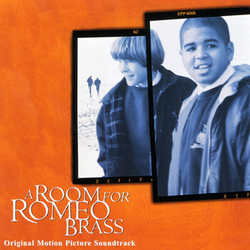 A Room For Romeo Brass
Milan Records (73138 35919-2)
Release Date: October 24, 2000
Formats: CD, Digital
Music From
Purchase Soundtrack
Track Listing
1.
"A Message To You, Rudy" - The Specials
2.
"Corpses in Their Mouths" - Ian Brown
3.
"Colours" - Donovan
4.
"Everything's Gonna Be Alright" - P.P. Arnold
5.
"After Midnight" - J.J. Cale
6.
"If This Is Love..." - Gavin Clarke
7.
"Matty Groves" - Fairport Convention
8.
"Don't Forget Your Shovel" - Christy Moore
9.
"Going Down" - The Stone Roses
10.
"Stolen Car" - Beth Orton
11.
"Listen Here" - Eddie Harris
12.
"Everywhere" - Billy Bragg
Track lengths not available for this album. If you have track length/time information for this album, please e-mail it to us at mail@soundtrack.net and we will add it to the database.
From the Manufacturer
A Room for Romeo Brass is a 1999 film directed and written by Shane Meadows. It was co-written by frequent Meadows collaborator Paul Fraser. The film stars Andrew Shim as Romeo Brass, Ben Marshall as Gavin Woolley and Paddy Considine as Morell. It was nominated in three categories at the 1999 British Independent Film Awards. It follows the young Romeo and his best friend Gavin, as they undergo a tumultuous period in their childhood. The soundtrack includes music by The Specials, Ian Brown, Donovan, P.P. Arnold, Beth Orton, The Stones Roses and many more.
Missing Information?
If any information appears to be missing from this page, contact us and let us know!