Soundtrack Information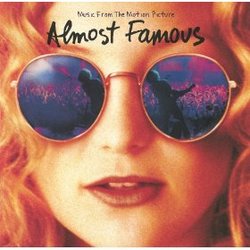 Almost Famous
DreamWorks Records (0044-50279-2)
Release Date: September 12, 2000
Formats: CD, Digital, Vinyl
Music From
Track Listing
| | | |
| --- | --- | --- |
| 1. | America (Simon & Garfunkel) | 3:36 |
| 2. | Sparks (The Who) | 3:47 |
| 3. | It Wouldn't Have Made Any Difference (Todd Rundgren) | 3:49 |
| 4. | I've Seen All Good People:Your Move (YES) | 3:32 |
| 5. | Feel Flows (The Beach Boys) | 4:44 |
| 6. | Fever Dog (Stillwater) | 3:09 |
| 7. | Every Picture Tells A Story (Rod Stewart) | 5:55 |
| 8. | Mr. Farmer (Seeds) | 2:51 |
| 9. | One Way Out (The Allman Brothers Band) | 4:59 |
| 10. | Simple Man (Lynyrd Skynyrd) | 5:55 |
| 11. | That's The Way (Led Zeppelin) | 5:37 |
| 12. | Tiny Dancer (Elton John) | 6:13 |
| 13. | Lucky Trumble (Nancy Wilson) | 2:41 |
| 14. | Waiting For The Man (David Bowie) | 5:41 |
| 15. | The Wind (Cat Stevens) | 1:39 |
| 16. | Slip Away (Clarence Carter) | 2:31 |
| 17. | Something In The Air (Thunderclap Newman) | 3:54 |
| | Total Album Time: | 70:33 |
Review: Almost Famous
by Rawson Thurber
May 24, 2004
3 / 5 Stars
Cameron Crowe's Almost Famous is the barely fictionalized tale of 15 year-old Rolling Stone reporter William Miller's (Patrick Fugit) first assignment: 1,000 words on Stillwater, an up and coming local rock band on tour. William quickly ingratiates himself with the self-absorbed lead singer (Jason Lee) and lead guitarist Billy Hammond (Billy Crudup) and is invited to join the band on tour. He quickly falls in love with Penny Lane (Kate Hudson) and sees first-hand the alternating love and pettiness and posturing of a rising rock band. The film itself is far more heart-warming than heart-wrenching and ultimately feels like a warm memoir than a serious analysis of a period clearly very personal and very close to Mr. Crowe's heart.
The soundtrack album, produced by Danny Bramson and Cameron Crowe, is a full seventeen tracks of 1970's nostalgia with cuts such as Simon and Garfunkel's "America", "Sparks" by The Who, "Fever Dog" by (the fictitious) Stillwater, "One Way Out" by The Allman Brothers Band, "Simple Man" by Lynyrd Skynrd, "That's The Way" by Led Zeppelin and Elton John's infectious "Tiny Dancer" topping the list. This is the first time that Led Zeppelin allowed one of their songs to be used on a compilation soundtrack album, so it's a very special inclusion indeed, as there were over 50 songs used in the film!
Though many of the songs work beautifully in the film itself ("Tiny Dancer" especially), they don't hold their pop without the emotional connection to Crowe's work. Additionally, the soundtrack itself feels like an eclectic collection of someone's favorite songs (and no doubt it is) dumped onto a mix tape rather than a cohesive, thematic statement. Tracks such as Todd Rundgren's "It Wouldn't Have Made Any Difference" and Rod Stewart's "Every Picture Tells a Story" feel hopelessly out of step with gems such as the live recording of David Bowie's "I'm Waiting For The Man" and Cat Steven's beautiful "The Wind".
All in all, when you leave the theater after seeing Almost Famous, picking up the soundtrack seems like a no-brainer - but be prepared to only really enjoy 4 or 5 cuts on the album. This isn't one you can pop in, hit play and forget about it. You'll have to skip around here and there to avoid the clunkers.
Missing Information?
If any information appears to be missing from this page, contact us and let us know!