Soundtrack Information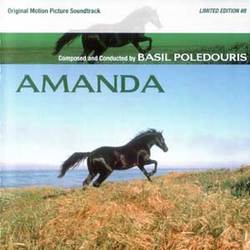 Amanda
Prometheus (PCR 508)
Release Date: 2000
Conducted by Basil Poledouris
Performed by
The Seattle Session Orchestra
Format: CD
Music From
Music By
Track Listing
| | | |
| --- | --- | --- |
| 1. | Ride to Church | 2:29 |
| 2. | Passing Wagon | 1:41 |
| 3. | Biddle Remembers | 1:30 |
| 4. | Gonna Ride Spoke | 0:34 |
| 5. | Biddle To Barn | 1:16 |
| 6. | The Glasses | 1:18 |
| 7. | Practice | 2:04 |
| 8. | The Story Part I / Night By | 4:08 |
| 9. | The Story Part II / Caleb's Fear | 2:55 |
| 10. | Biddle Sees | 1:02 |
| 11. | Biddle Lightens Up | 2:40 |
| 12. | Amanda Pushes Biddle | 1:26 |
| 13. | Common Ground | 0:56 |
| 14. | Pole Practice II | 1:11 |
| 15. | The Story Part III / Amanda Kills Spoke | 2:17 |
| 16. | Search For Spoke | 0:53 |
| 17. | Spoke is Found | 0:45 |
| 18. | The Story Part IV / The Sword | 2:07 |
| 19. | To The Rodeo / Biddle Accepts | 3:39 |
| 20. | Amanda's Gift | 3:35 |
| 21. | You Make The Magic | 1:55 |
| | Total Album Time: | 40:21 |
Review: Amanda
by Messrob Torikian
August 25, 2003
3.5 / 5 Stars
Amanda tells the story of a relationship between a boy and a horse.  The horse's mysterious owner helps the young boy overcome his problems with medieval tales of heroism and bravery, all of which feature the black Shire horse, Amanda.  Though never given a North American distribution, the film has its fans overseas and the few who have caught it on video.  Consequently Poledouris' score never got a CD release until now.
The music for the most part is very lighthearted and warm.  It's a family movie, and Poledouris has provided the movie with a more than adequate voice.  The main character's theme, which constantly pops up throughout the score, is fittingly lyrical and pushes the right emotional buttons when it's supposed to.   With a piano based structure, woodwinds and strings support the theme.  As light as it is, it's unmistakably Poledouris. 
The parts of the score that truly stand out, however, are the storytelling cues.  These fantasy stories give Poledouris a chance to go back to the type of music that made him famous.  Though somewhat reminiscent of Conan, they're not simple knock-offs.  During the first few listens, I thought these cues were a bit too rousing for an apparently simple family movie.  The music conveys a great sense of soaring over wide-open plains. The full orchestra kicks in, and the music carries the listener along for the ride.  It was only after reading the liner notes and discovering the subplot about the medieval stories did it finally make sense as to their inclusion.  Consequently, those are cues that are most memorable, where you're prompted to hit the repeat button
The music to Amanda never loses sight of what it is and sticks with it.  The Seattle Session Orchestra provides an appropriately intimate feel.  It's not big nor is it supposed to be.  Never a one-note composer, Poledouris isn't afraid to show his playful side either. One of the standout tracks, "Amanda pushes Biddle", is structured like a musical tug of war and builds to its own little climax. 
The album is a limited released by Belgium-based Prometheus Records.  As usual, they've done a wonderful job of putting this release together.  The album sounds clean and well mastered.  The liner notes are brief and informative in giving the background of the movie and the approach Poledouris took.  Overall, this is a good package and well worth owning for Poledouris fans.  The album can be bought at http://www.soundtrackmag.com/
Missing Information?
If any information appears to be missing from this page, contact us and let us know!