Soundtrack Information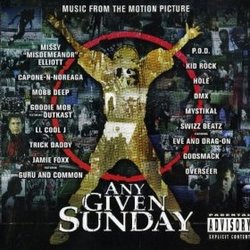 Any Given Sunday
Release Date: January 4, 2000
Formats: CD, Digital
Music From
Purchase Soundtrack
Track Listing
1.
"Who Ya Going To Call" - Missy Elliot
2.
"Reunion - Capone-N-Noreaga
3.
"Never Goin' Back" - Mobb Deep
4.
"Sole Sunday" - Goodie Mob f. Outkast
5.
"Shut 'Em Down" - LL Cool J
6.
"Sittin' On D's" - Trick Daddy
7.
"Any Given Sunday" - Guru & Common f. Jamie Foxx
8.
"Whatever It Takes" - P.O.D (rough clip)
9.
"Fuck That" - Kid Rock
10.
"Be A Man" - Hole
11.
"My Niggas" - DMX
12.
"Jump" - Mystikal
13.
"Move Right Now" - Swizz Beats f. Eve & Drag-On
14.
"Why" - Godsmack
15.
"Stompbox" - Overseer
16.
"Any Given Sunday Outro" - Jamie Foxx
Track lengths not available for this album. If you have track length/time information for this album, please e-mail it to us at mail@soundtrack.net and we will add it to the database.
Review: Any Given Sunday
by SoundtrackNet Staff (RG)
January 2, 2000
2.5 / 5 Stars
Oliver Stone has a habit for making crowd-pleasing entertainment. This fact holds true in his recent movie, Any Given Sunday - assuming the crowd to be pleased is full of young urban youths who like sports, rap music, and a quasi-climactic all-or-nothing football game at the end coupled with excessive scenes of vomiting on the playing field. Additional pleasing for this crowd would also have to come in the form of viewing today's rap music icons make their glorious transition to the motion picture screen. If you enjoy this type of farcical drama and display of contemporary culture, you will find the soundtrack proves to be quite entertaining as well. Or you might just be a fan of some of the artists on the album.
In Stone's past movies, it was common to see a controversial expose or blistering satire, yet this work fell short of my expectations to that effect. Ergo, it is not surprising that soundtrack proves equally insipid. The soundtrack reflects upon the common themes of rap and alternative music to deliver just what Stone is looking for. The mainly dark and powerful themes of the tracks on this album couple nicely with the angry lyrics that speak to money, power, fame and the love of the corrupted game. Just as Stone is incapable of making a film without loading it with subtexts and allegories, so does the music on this soundtrack draw a listener into deeper representations of the American culture.
The songs on this CD are mainly rap-based, with the occasional screaming alternative anthem by Hole or Kid Rock. The music speaks to the need for Americans to excel, win, party, and live for the pleasures of money as most of the songs reference such classic pastimes as drugs, sexual promiscuity and egregious partying. (It should be noted that the lead actress from Showgirls makes a cameo as none other than a prostitute in this film). There is no doubt that Stone tries to present irony in this movie. Additional songs on the soundtrack mention lyrics such as, "from the cotton fields to the football fields" in an effort to show the ways in which exploitation takes its way to the game.
If you're a fan of Stone, or if you're a fan of the artists on this album, by all means buy it. The third track is an excellent song, and I can almost detect the theme from Heat in the background. However, if you've had enough with today's contemporary rap based garble, you might just want to pass over this one.
Missing Information?
If any information appears to be missing from this page, contact us and let us know!