Soundtrack Information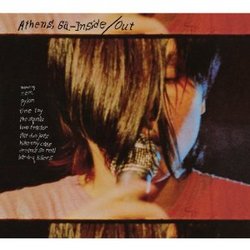 Athens, Ga. - Inside/Out
Release Date: 1985
Formats: CD, Cassette, Vinyl
Music From
Purchase Soundtrack
Track Listing
1.
Na Na Na Na (The Squalls)
2.
Crazy Hazy Kisses (Flat Duo Jets)
3.
(All I've Got To Do is) Dream (REM)
4.
Pretty (Love Tractor)
5.
Nightfall (Kilkenny Cats)
6.
Window Sill (Time Toy)
7.
Stop It (Pylon)
8.
HI (Time Toy)
9.
His and Hearse (Bar-B-Q Killers)
10.
Golden (Dreams So Real)
11.
Swan Swan H (REM)
12.
Jet Tone Boogie (Flat Duo Jets)
13.
Elephant Radio (The Squalls)
14.
BONUS TRACKS: Search And Destroy (Love Tractor)
15.
Room 101 (Kilkenny Cats)
16.
Got To Give it Up (Love Tractor)
17.
Hunchback in The AM (Bar-B-Q Killers)
18.
Shattered (Love Tractor and PeterBuck)
Track lengths not available for this album. If you have track length/time information for this album, please e-mail it to us at mail@soundtrack.net and we will add it to the database.
Missing Information?
If any information appears to be missing from this page, contact us and let us know!